With the end of the year approaching LinkedIn released an ebook about how prospective students discover, research and choose their college or university in the digital age. Not surprisingly, the ebook then suggests a few of LinkedIn's very own marketing tools to be used in this new recruitment landscape. Your Holiday wish came true!
Between the research provided and the breakdown of how higher education marketers can use the LinkedIn, the company has positioned itself as an online conduit between schools and prospective students, a role that they've been working towards for some time now. Like many reports offering "new" solutions, the ebook starts in 2008, at a time when most of us felt the need for change.
As the job market shrunk after the Recession many Americans saw the need to build a strong professional network and stay more aware of new job opportunities. Having been launched since 2003, LinkedIn was popular enough to provide that service. Considering this demand, it's no wonder that between 2006 and 2015, LinkedIn's membership grew from 20 million to 400 million. Today it seems like just about every company you might be applying to is on LinkedIn, along with a high volume of recruiters, employees and job seekers connecting—making your presence on the website about as necessary as a resume. In fact, we may even be getting close to the point where your LinkedIn profile is your resume.
But the social networking site hasn't stopped there. Considering the link between skill building and job growth, they have since taken the steps to be more than a communication channel, offering an extensive platform and set of tools that links employees, companies, students and educational opportunities.
Plot points
The company's most ambitious, upcoming tool is called The Economic Graph. In theory, because students (prospective,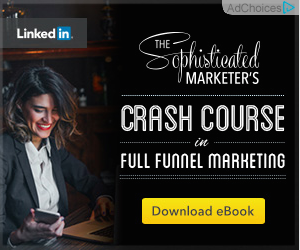 current & alumni), job seekers, employees, businesses and schools are all on LinkedIn, the Economic Graph will reveal the jobs that are available, the skills needed to do them, and the schools or alternative learning programs you can use to attain those skills. Having bought online learning website Lynda.com around the time they announced the Economic Graph, Linkedin-offered skill building courses are likely to be incorporated in the big plan.
Our first live glimpse at this transparent, data fueled system starts with Linkedin Edu.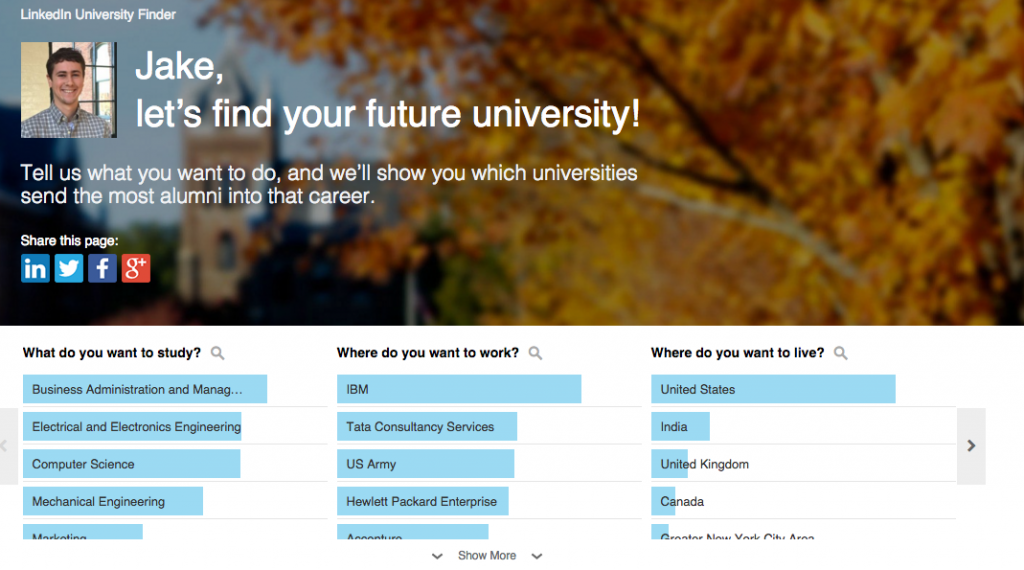 While we can't say it's the prettiest place to plan your academic/professional itinerary, it does have much of what they've promised. The three categories, What do you want to study, Where do you want to work, and Where do you want to live, all filter around each other, and so does the collection of schools as you start to make selections. Want to study Computer Science, live in Boston and work for Oracle? Here is a list of nine schools to help you get there: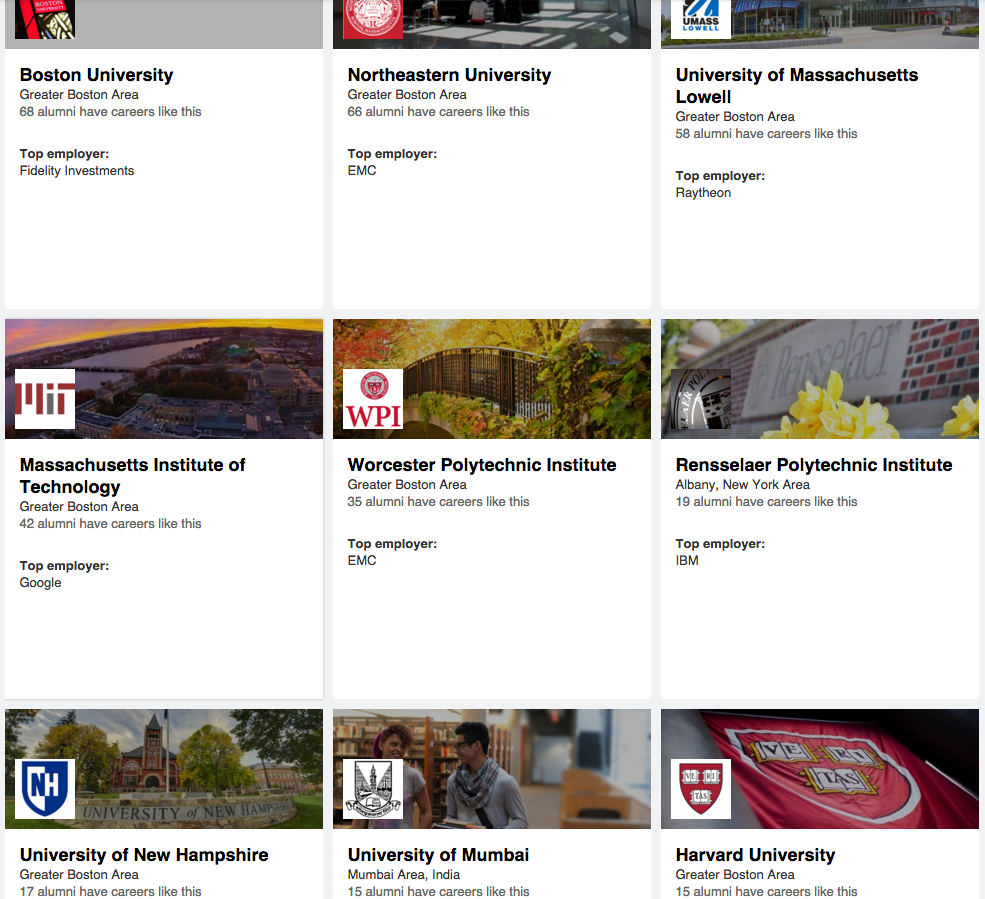 Considering the level of involvement and forward thinking that these tools require, the most realistic student user base of LinkedIn EDU seems to be nontraditional and prospective graduate students.
While a highly ambitious teenager could choose Worcester Polytechnic Institute because her or she wants to live in Boston and work at Oracle, the average undergraduate student won't (and arguably shouldn't) have all this figured out by Junior year of high school. For now, we don't see a lot of traditional students being on LinkedIn. Nontraditional students and graduate students are a different story.
These prospects will have a better idea of what they want to do professionally, and having most likely held several jobs, they will have had a reason to be on LinkedIn before their school search started. The ebook also purports that LinkedIn will connect schools with not just any prospective students, but with the serious kind of prospective student.
True Grit
Using a test developed by The Duckworth Lab at the University of Pennsylvania, The ebook states that on average Linkedin members have a higher Grit Score, "the ability to pursue long-term goals with perseverance and passion" than nonmembers. By spending time beefing up your LinkedIn profile, expanding your network and researching job opportunities, in a way you're going above and beyond what's expected of you. Checking the website regularly and reaching out to new contacts shows that you're not afraid of the daunting job hunt and are confident that you could be a good asset to a company. In short, it shows grit—which is essential for degree earners.
In addition to high Grit Scores, Linkedin also shows that their members are more financially resilient than nonmembers. By asking members and nonmembers to answer the question of whether they could "come up with $2,000 in the next month for an unexpected need," they concluded a much higher financial stability among LinkedIn members.
The point here is this: when it comes to current or prospective students who desire more degrees and a wider skill set, there aren't a lot of dead leads on Linkedin.
Nurturing those leads
The ebook provides very valuable information on what messages different students are seeking along the school evaluation process. It then follows these conclusions by promoting the LinkedIn tools you can use to deliver those messages.
 Inmail:  ­Just like an Inmail to a current connection these emails go right into students inboxes. With the "professional" Inmail product you can target by title keyword, like Manager or Director, making you more likely to reach key decision makers.  Since it's an email you can write longer copy to explain complex programs or offerings. This is a great way to talk specifically about key programs at your school and target students that would be most likely to show interest.
Custom Targeting: Here is a great strategy to incorporate into your display advertising campaign so that your ads are shown to your preferred audience—for example, only alumni will see an alumni message with custom targeting.
Onsite and Network Display Ads: Have your ads reach your targeted LinkedIn audience on LinkedIn's website.
Sponsored Updates: This paid placement opportunity insures that your updates are shown to users at the top of their feed.
Publishing: This is a great way to leverage the LinkedIn community to further promote your content marketing strategy. Keep your messages (blog posts, whitepapers, etc) on linkedIn with the website's own publishing board Pulse.
The Great Conduit
So what have we learned? First) LinkedIn has a strong member rate of professionally/academically focused users; second) it is developing innovating tools to assist these users; and third) it provides marketing options for schools to reach these members.
Familiarizing yourself with LinkedIn's offerings and learning what Linkedin marketing tactics work best for you will help improve your recruitment marketing efforts in the years to come. Student recruitment isn't always predictable, but considering the moves that LinkedIn's making to woo higher ed marketers, from new tools and research to its own education marketing conferences, it's pretty safe to say that Linkedin's position as a conduit to prospective students is only getting stronger and will continue to do so into the future.
For moreFor more mission based marketing insight, dig into our blog page, or sign up for our newsletter and like/follow our Facebook, Twitter, or LinkedIn pages to let the news come to you!