In 2017, over 260 billion emails were sent per day; by 2020, that number is expected to reach nearly 310 billion. Add in social media and other smart-tech distractions, and it's no wonder the human attention span has dropped from 12 seconds to 8 seconds since the year 2000. The question for marketers is, does a shorter attention span require shorter content?
For a while, that's been the common solution. In the past few years, commercials have gotten shorter, webpages thinner, and text in general replaced by video. Our team too has spent plenty of resources generating a variety of short-form content: blog posts, customer testimonials, social media and more.
But when we sat down to look at the numbers, we saw that our content was underperforming and not breaking through to our unengaged audiences. We were fighting fire with fire, and it wasn't working. That's when we decided to go the opposite direction and invest in a longer-form medium that packaged all of our content into one piece.
Enter: the digital magazine.
Maybe you're skeptical. "Long form is dead!" you say. "Look at those attention-span statistics!" It might not make sense on the surface, but long-form content is actually on the rise and performs better than shorter pieces. Those billions of emails and social media posts that are distracting us? They scratch the surface of topics but never go deeper, leaving us craving depth and immersive experiences: two things a digital magazine can provide, with its combination of meaningful copy and thoughtful design.
Take for example Panorama, WPI Online and Corporate Education's digital magazine. The idea behind this publication was to give our audience, mainly prospective and current students at different points in their STEM careers, a 360-degree look at everything happening behind the scenes in our department of online and corporate education in a way that hadn't been done before: how we create and launch programs, who's who on our teams, and even news from the wider campus. Because all of our students take their courses offsite, either at home or in their place of work, Panorama is a way for them to stay connected to campus and feel like a part of the WPI community at large.
A digital magazine is like a Trojan horse, sneaking past the walls of inattention and lack of trust. The design elements set it apart from everyday emails and welcome readers into a higher-end experience. It feels new and exclusive, a free gift full with information that is genuinely of interest to them. This is the main catch: the design draws them in, but the content keeps them engaged. It's important to think less about what you want to say and more about what your customer wants to read. With every piece you want to write, ask yourself: what's in it for my audience? How can I position this content in a way that helps and entertains my customers?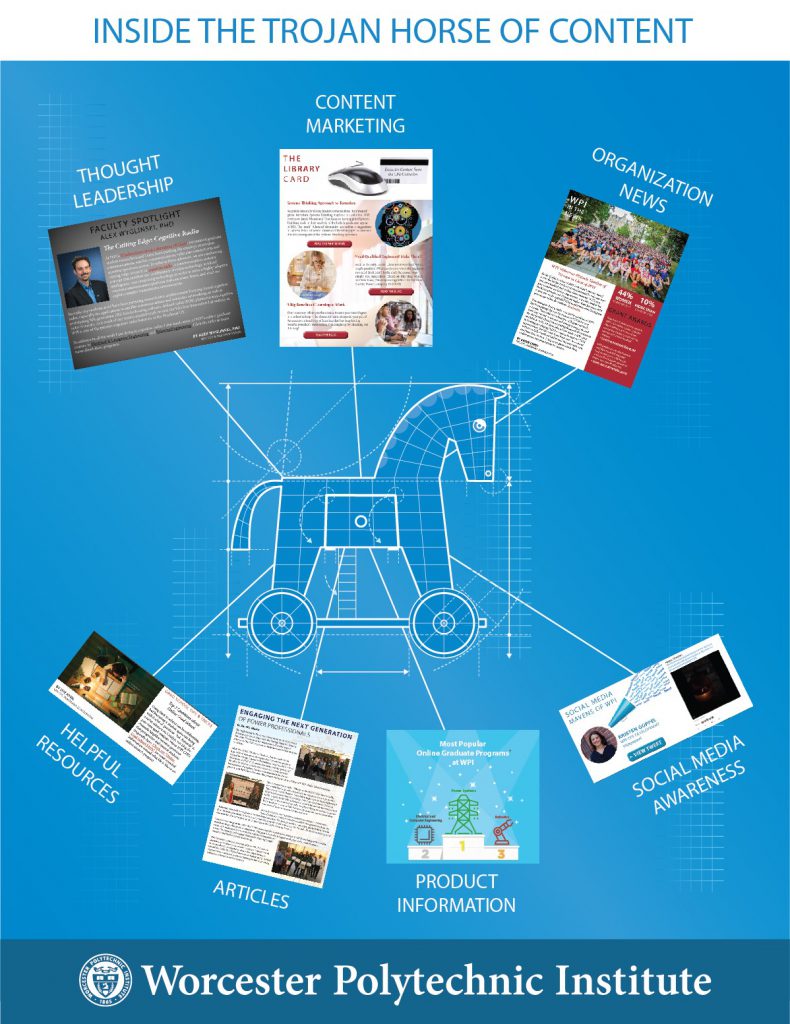 Within the framework of helping and entertaining is where you make your mark. For example, our email data showed that WPI's prospective students love to hear from our esteemed faculty, so with this knowledge we're sure to include professor interviews in our magazine. This gives our audience what they crave and, because we've offered something of genuine interest, trust grows, allowing us to promote the programs with which the faculty member is associated.
I'll admit: when we devised the idea of a digital magazine, we didn't know if it would make an impact. Before 2018, our office had never tried one before. When we saw the numbers, we were amazed: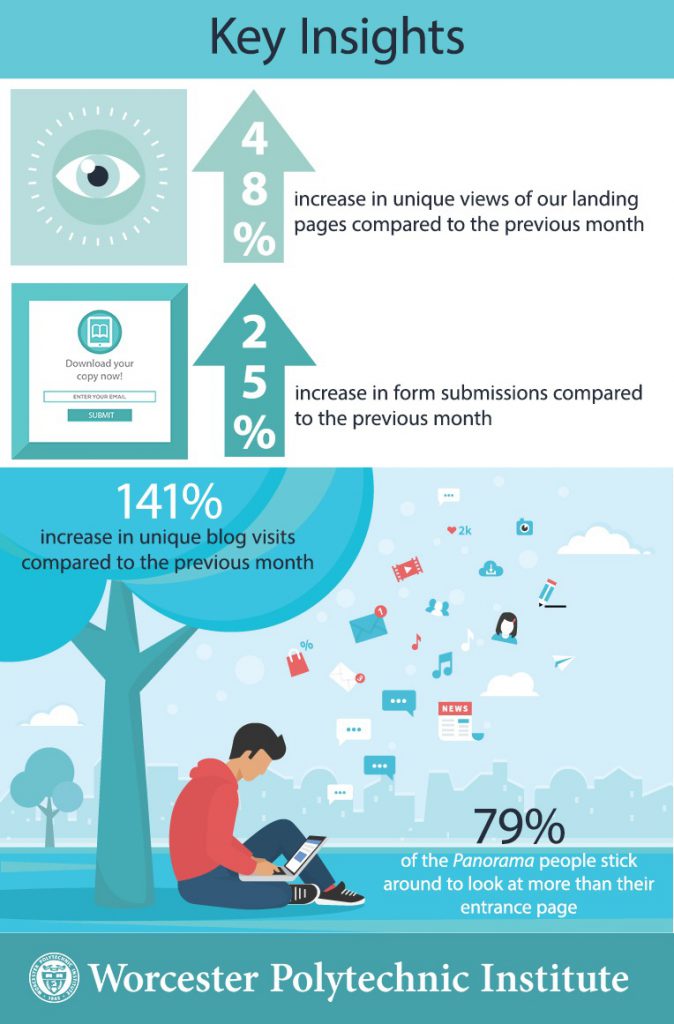 The numbers don't lie. If you build something that looks and feels professional and pack it with content your customers care about, engagement goes through the roof.
So how do you build your own Trojan horse? Here are six steps to get your started:
Assemble your army.  

Bring in the best of the best: your top designers and copywriters, as well as data-analytics experts. If you don't have the time to dedicate your high-potential resources to the project, stick to simpler communications until they're available. Decide on a reasonable number of issues to put out per year (we recommend 2-3 max, with summers off), to ensure

high-quality output over quantity.
Zero-in on your target.

This is crucial to the tone and topics of your content and can also inform the look and feel of the magazine.

Who's your main audience

? A list of under-engaged potential customers? Existing customers, as part of a retention strategy? Make it clear.

Devise a battle strategy.

Take time to brainstorm existing content that will genuinely interest your audience. Assign owners to repackage content or write new articles. Take time as well to discuss layout approaches and delivery options to ensure a seamless reader experience. For example, we made sure our magazine opens in a 2-page spread, so it feels like a real magazine on the screen.

Build that horse.

Write the content introductions and new articles, and design the layout. Be sure there are tracking URL's throughout every issue, so you can properly attribute your spike in traffic to all this hard work. Pull it all together. Revise, revise, revise. Don't rush this stage; again, quality is your goal.

ATTACK!

Roll that horse up to the wall and blast it out via email and on social media. We have our magazine living on our blog, which we find drives traffic to both the magazine and other posts and is an easy way to archive all of our issues.

Celebrate your victory, adjust, and begin again.

Let a few months go by and pull in your data folks for a post mortem. Analyze traffic and click rates to continue learning about your audience. Use that data to brainstorm topics for next issue.
In the age of inattention, content marketing can feel like an uphill battle. The digital magazine could be the unexpected secret weapon to inexpensively repurpose content and break down the wall between you and your customer.