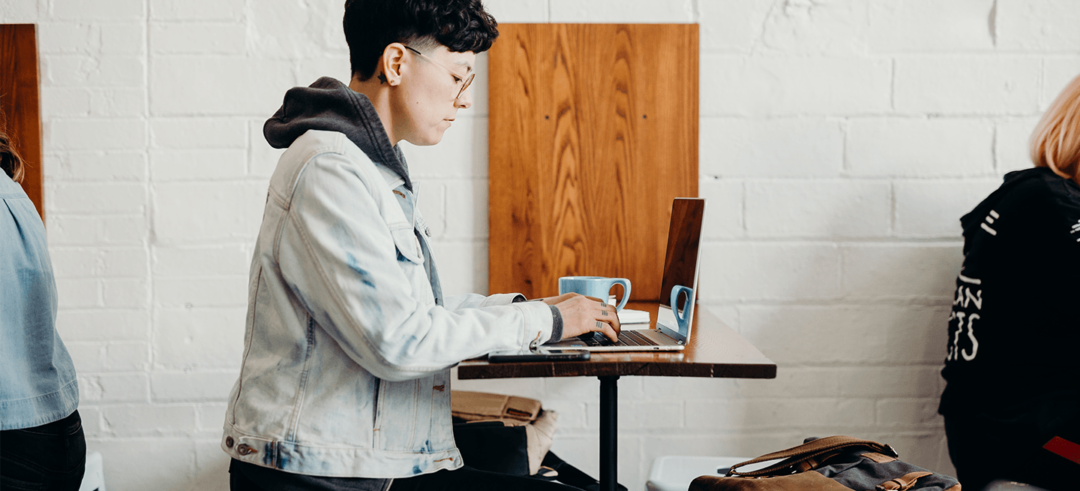 Today's high school students are rapidly developing new ways of researching colleges online – from social media to texting to virtual reality. Are you worried about keeping up or investing in tech that's not worth the hype? Start by following the numbers.
The RNL/OmniUpdate E-Expectations 2019 Trend Report surveyed nearly 1,000 high school sophomores, juniors, and seniors about their digital habits and how they search for colleges online.
This year's data revealed several insights that you can keep in mind when auditing, updating, or redesigning your school's website. Take a look at five of our top findings and see how your school can better serve the next wave of prospective students.
Download a full copy of the E-Expectations 2019 Trend Report. It's FREE.
1. Add virtual reality (VR) videos to your website.
VR videos had the biggest gain in influence than any other communication method between the 2018 and 2019 studies. Although VR is still rare on college websites, adding VR showcases your school as progressive and in tune with the interests of digitally native students. It also offers your audiences a simple yet engaging way to explore the campus.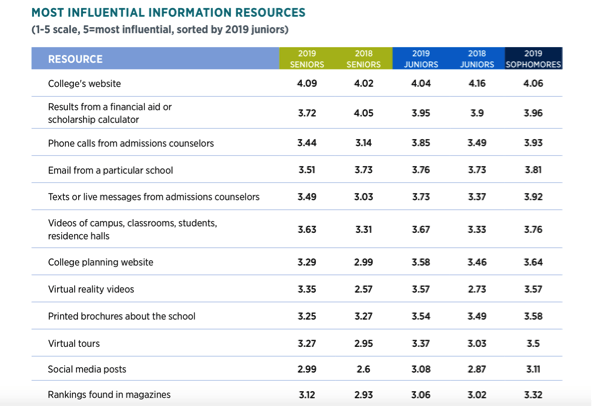 2. Keep forms simple.
Nobody wants to fill out a lengthy form, and students said that they would stop completing a form altogether if it asked for too much information. In fact, 47 percent of seniors, 34 percent of juniors, and 38 percent of sophomores said they would discontinue completion of forms they consider too long. Instead, ask for the minimum: name, phone, and email—enough for you to re-engage at later points in the admissions cycle.

3. Connect fact-to-face for the biggest impact.
A face-to-face meeting impresses students—and the beauty of these meetings is that you don't have to do them in person. Build video chat into your website platform. Skype, Zoom, and similar tools are ideal in reaching this digitally savvy audience, and you'll save time and money doing so. Sixty percent of seniors prefer this medium for asking questions and learning more about your school.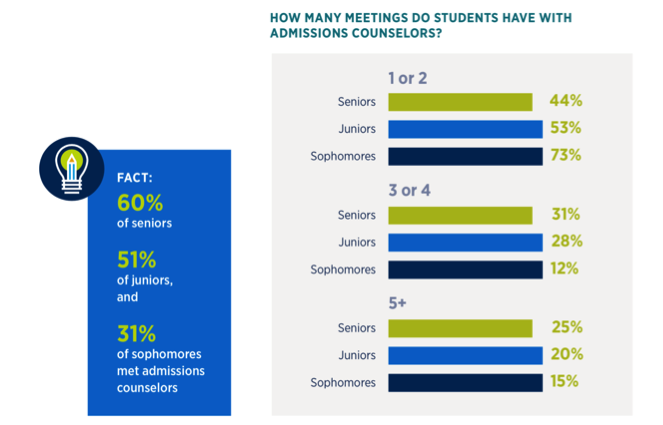 4. Text students with time-sensitive information.
A student visits your website and completes a short form that asks for their mobile number — you now have an instant communication channel with your engaged prospect.Texting students has become an accepted and even preferred method of communication. Because students are never without their smartphones, texts put your school's information in front of them in real time. It is especially effective for getting news to prospects about their applications, and if you keep texts short and limit their frequency, you can create ongoing conversations with students as they move from research to decision-making. Imagine keeping a conversation with students going even after they've enrolled!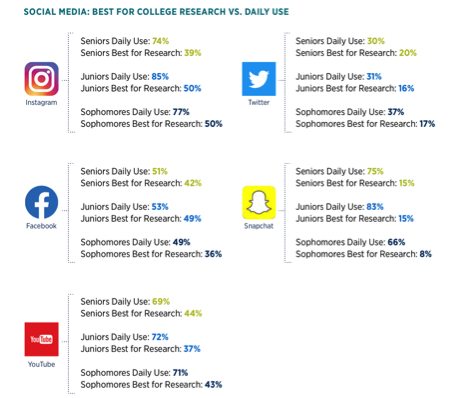 5. Integrate all forms of social media into your website redesign.
A few years ago, Facebook reigned supreme as the dominant social media platform for getting information out to prospective students. Today, Facebook is still a solid marketing tool—especially if you're looking to reach parents of students. However, students have moved on from Facebook, with Instagram and Snapchat being the current platforms of choice. Integrate new tools into your website with feeds and links so that your messaging stays in front of students on the platforms they use most frequently.

Updating and redesigning your website is a complicated, comprehensive process with far-reaching effects. Taking time to use data about your target audience to inform the design, content, and structure of your site can boost engagement and ultimately convert prospects into students.
Download a full copy of the E-Expectations 2019 Trend Report. It's FREE.