By idfive \ April 24, 2018
A full-time undergraduate degree is not an ideal form of education for many of today's adult learners. Often working professionals aged 25 and older, these potential student's are unable to commit to full-time enrollment, nor are they in need of the substantial education a four-year degree provides. Yet as competition in the job market increases, these professionals still need a way to skill-up throughout their career and break into new industries. When it comes to personal enrichment-based learning too, it's the myriad of online learning opportunities that they reach for and not semester-long courses. But while the current model of higher education wasn't built for this audience, their presence is encouraging schools to phase in a new one. 
Schools across the country are investing in online courses, unbundling their offerings, and offering educational opportunities with more "real-world" value. The resulting landscapes look less like a traditional undergraduate experience and more like a retail experience, where each academic "product" varies in price, length, and value. Micromasters, packaged courses, and day-long online workshops are just a few examples of the "products" that colleges are developing and marketing to adult learners. While there are plenty of adult learners enrolled full-time at a college or university (30 percent as of 2017), for those in need of a less substantial education, or those enrolled full-time but struggling to manage the commitment, these new academic offerings can simply serve as a better option, and can result in additional, untapped revenue streams for the school. 
Adapting to this new model is imperative if colleges want to capitalize on adult learners. To explore the topic further, we've looked into the aspects of this evolution that matter most to university marketing teams: The defining characteristics of these new academic products, the new marketing methods your team will need to promote them, and how colleges can retain students and offer them consistent, life-long learning. 
A New Look for University Products
The academic offerings of the future will be far different than the traditional undergraduate and graduate experience. To relieve student constraints and help them achieve their professional or personal goals, certain product "features" will be applied to these academic offerings. This includes being online, unbundled and condensed, connected to the campus, packaged and stackable, entrepreneurially designed, and accessible. Here's a look at how various colleges and universities are implementing these features. 
Online
Enrollment in online courses has seen considerable growth in recent years, but which online courses are giving the best education? Knowing what makes an online course stand out is an important step in the marketing and enrollment process. According to a guide created by the University of Texas at Austin's Faculty Innovation Center, successful online courses broaden the ways they check student learning, utilize different forms of content and content delivery, democratize the classroom, and provide a convenient and flexible schedule for students. At eCornell, Cornell University's online education brand, courses are positioned as flexible and rigorous, taught by universities professors that provide feedback, and can be taken at any point in the day. This model takes advantage of the main value of any online education—students can access it whenever they want.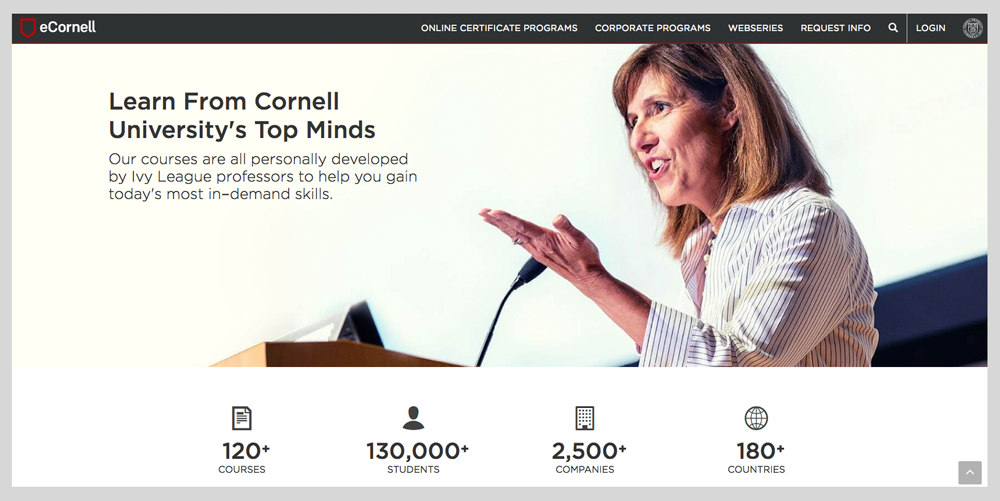 Unbundled & Condensed
Busy professionals want to earn a degree or certificate as quickly as possible, which means that schools will have to condense and unbundle their courses from the constraints of full-time enrollment. So far, schools offer a wide range of timeframes. The University of Virginia offers 20 to 12-week long certificates, University of North Carolina offers accelerated 4-semester programs, Johns Hopkins Carey Business Schools offers 3-day "short courses", and Georgetown University offers workshops as short as 1 day. Universities need to find the sweet spot to stay competitive while also providing the level of educational value that students would expect from a university. Marketing this balance is key, too.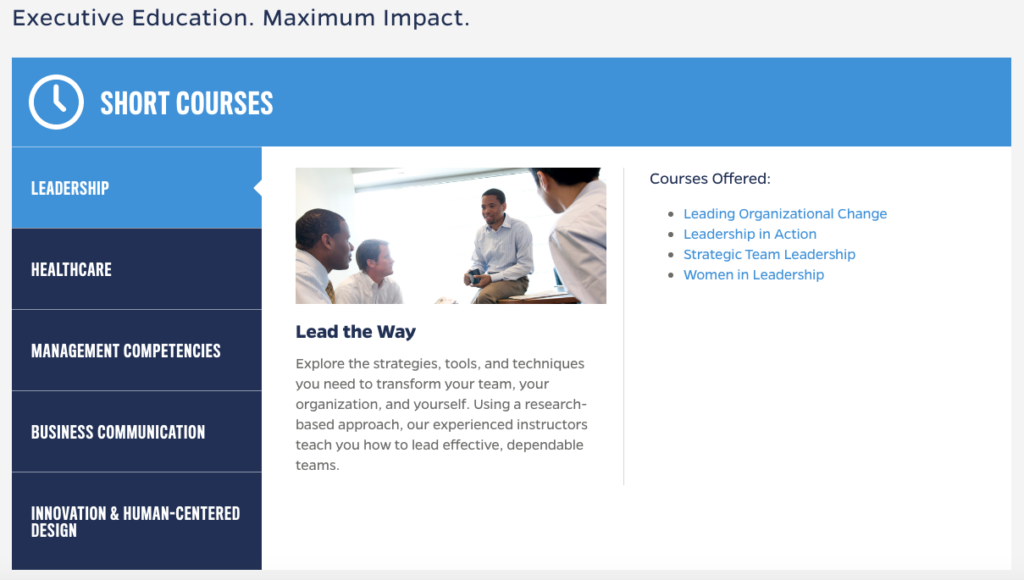 Connected to the Campus
Adult learners can benefit greatly from access to campus amenities and university-related events. Schools like Goucher College and Loyola University Maryland, for example, mandate weeklong residencies for students enrolled in online programs. The online-learning provider 2U partners with the co-working firm WeWork, so that students from universities such as USC and Georgetown University can use WeWork spaces to meet up with other students and take tests. Some schools even hold off-campus meet-ups and events specifically for online learners.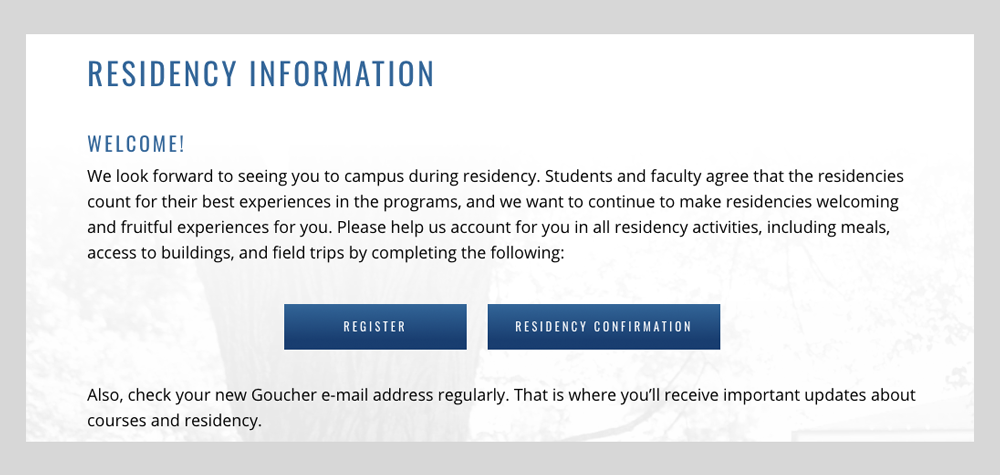 Packaged and Stackable
As degrees and credentials from universities still carry considerable weight in the job market, many schools are allowing students to "stack" courses in order to earn degrees, certificates, or in some cases a full Masters. For example, MIT, Penn State, and Boston University offer "Micromasters" that can be earned after completing a certain number of online courses, and when coupled together work towards a full Masters. These offerings allow students to take courses at their own pace and have something tangible to show employers throughout the process. 
Entrepreneurially Designed
For many working professionals, the allure of entrepreneurialism is higher than ever as online tools allow you to develop a product or service and market it easier than ever before. Many colleges and universities are tapping into this market and offering educational experiences that give prospective business-owners the start they need. Portland Community College advertises a 14-week Getting Your Recipe to Market intensive program, Cornell offers a Beekeeping Certificate, and the University of Vermont offers a Business of Craft Beer Certificate. These programs offer everything individuals need to start a business or transition into a niche industry.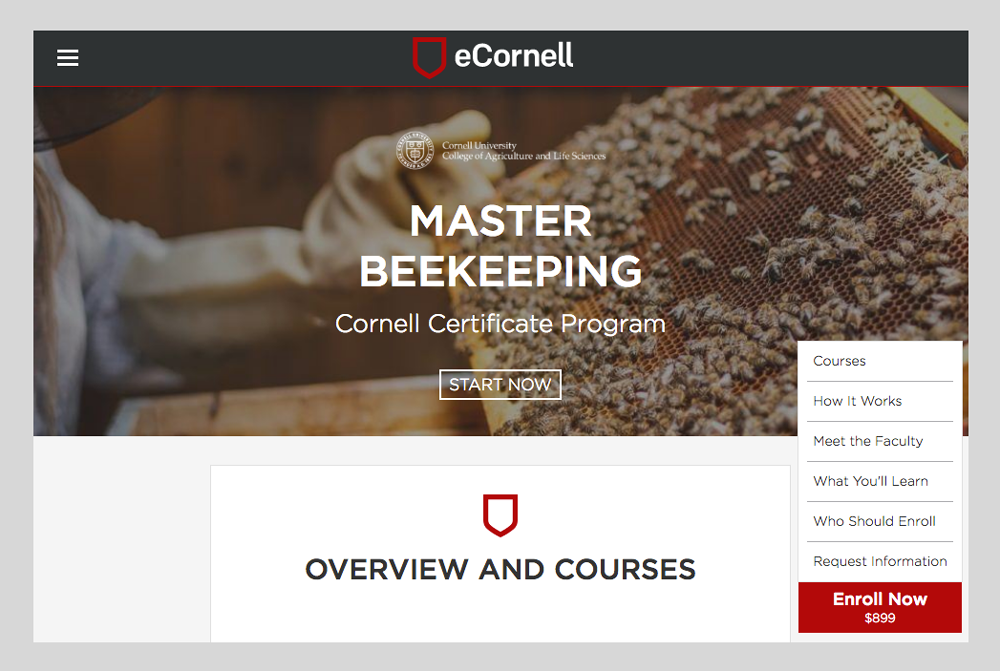 Accessible
When adult learners purchase a course from organizations like UDemy and Coursera they have access to that content for life. Colleges and universities that provide this benefit will stand out from the competition. Not only does this feature greatly benefit students, it also helps build brand affinity and encourage adult learners to continue learning over the full course of their career.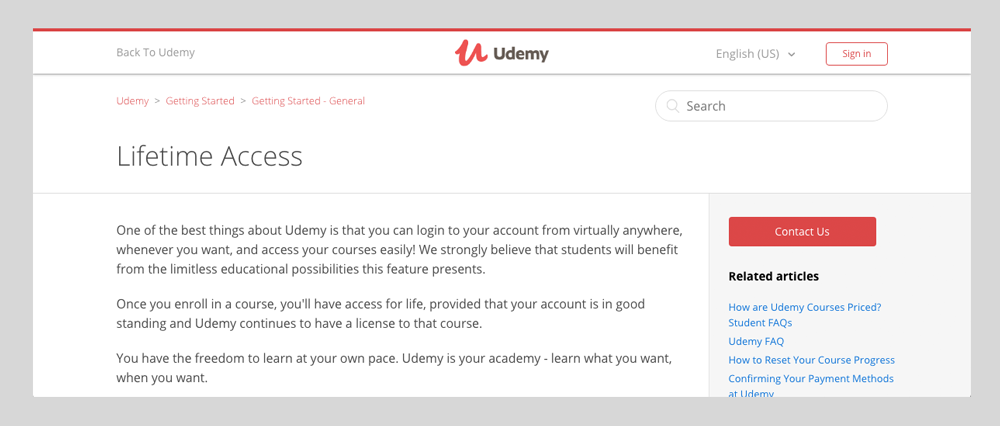 New Marketing Tactics for Academic Products
To market these new academic products, schools will have to adjust their tactics to better engage adult learners. Many retail marketing tactics, which anyone who's shopped online before (everyone) is used to, can serve as great examples. The messaging around retails products, how these products are showcased on the web, and the ways in which they're promoted via email and social media are good examples of how to market these new type of academic offerings to adult learners. 
Messaging
When schools are promoting individual programs, courses, and certificates and not the overall student experience, it's critical that they use engaging messaging really sell the value of the offerings. This can be done through email, banner ads, webpage copy, or simply through the title of the course. Companies like UDemy and General Assembly add energy to their workshops with titles like "Email Marketing Essentials" or "Crafting Stories with Data". Xavier University incorporates compelling, fun web copy and still fits their institutional brand. The school isn't afraid to humanize the learning experience and speak to the emotional side of students as well as the logical. Additional compelling elements for your messaging could be current events, earning potential, and alumni success stories.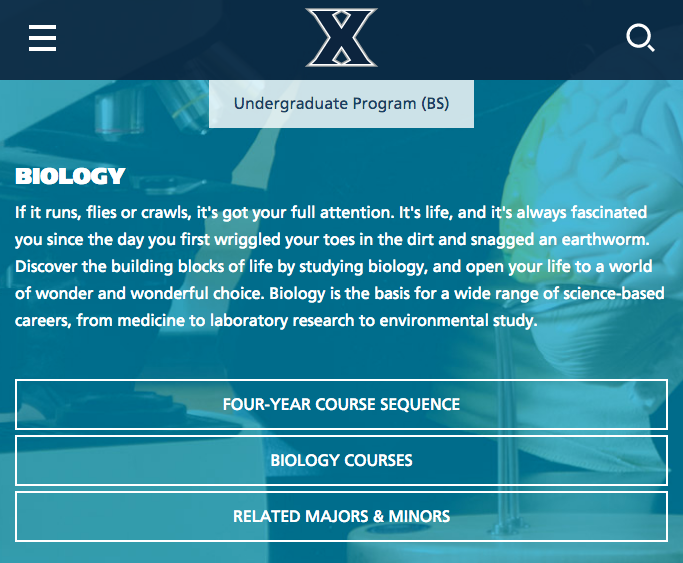 Web Experience
To encourage adult learners to enroll in a variety of courses and programs, schools will need websites that look more like online stores than traditional degree webpages. The University of Utah Continued Education's website is a good example of how to make finding and enrolling courses an intuitive experience. The website organizes courses into clear disciplines like "Writing", "Business and Finance", "Healthy Living", instead of university majors. There's also a "Cart" option, just like with an e-store, where students can stash courses they're interested in taking. The pricing for each course is also easy to find (and refreshingly inexpensive!) Beyond the functionality, these websites should also have an emotional design. Clemson University's undergraduate degree pages are great examples of how simple image choice can have a strong emotional impact on prospects, while eCornell's website shows how to use video content to connect.
Email
Email is one of the most impactful digital tactics used by retail brands to promote their products to adults. Curious as to what this tactic would look like in higher education? Thankfully, UDemy and General Assembly already have an impressive email marketing strategy we can learn from. Both companies take different approaches to promoting their courses; UDemy sends emails that showcase a range of courses, featuring little more than an enticing course title and a price tag for each one, while the General Assembly sends out one email per course and uses storytelling to sell it and drive audiences to an info session landing page. 
Continued Learning
One of the greatest distinctions between colleges and retail is that colleges retain their customer for four years, eight if they're doing a really good job, while many retail stores have customers for decades. Sure, schools have alumni, but alumni don't take too many classes. They don't yet, anyway.
Offering academic products like the ones we've mentioned will likely change the way students see the "end" of their college experience. If they can easily access educational content whenever their need arises, then they're more likely to see an education not as something that ends but as something to pick up routinely. At that point, students will transition from adult learner to lifelong learner. The goal of your school is to have these students return to your classrooms, again and again.
Our team came up with a few tactics that would encourage adult students to return to your school and enroll in more courses. Tactics include:
Make "next course" recommendations based on the student's career and previous courses.
Offer online communities for learners to ask fellow students questions and make connections.
Create easy re-enrollment paths so students can pick-up courses and start new ones whenever they need to.
Offer tuition discounts for return students so they have an incentive to continually choose your institution.
Offer curricula-mapped career paths to inspire students and guide them.
While we're firm believers in the extraordinary value of the traditional college experience—and stand by the role it plays in shaping critical thinking and personally balanced people before they enter the job market—it's clear that the non-traditional, unbundled learning experience will persist, found adult learners especially. 
As a university marketing professional, you're playing a major role in spurring this exciting new era of education. Your work will take your school to new heights, and educate generations of people in the process.