The reality of social media is that with every passing minute, anybody in the world could post a photo, video or blog related to your brand. Most organizations are focused on limiting the potential downside of this–creating social outreach designed to limit and address negative customer experiences. But what about the upside?
What about when someone tags your brand with a positive remark? Or What about when someone makes a post that's typical of your customer's experience, like a group of friends having lunch down the street from your museum? This type of content can do wonders for your website's engagement numbers, which is what Crowdriff was created for. 
The simple web tool enables site managers to find user-generated Instagram, Snapchat or Twitter posts related to their brand, acquire the rights, and then display the content on their website. Instead of passively waiting to be tagged or mentioned in a post, brand managers can use to the tool to actively seek and make use of authentic user-generated content that best represents their brand.

See the plugin in action on the Visit Portland website–on the lower third half under the "Happening Now in Portland" header.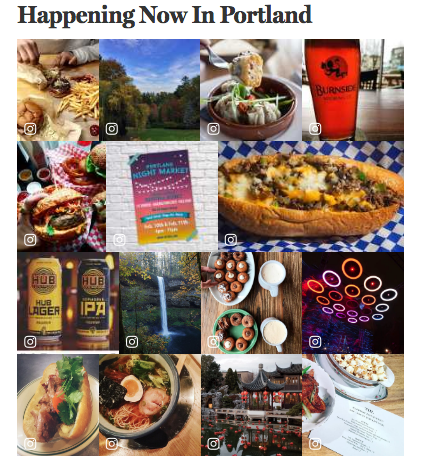 To take full advantage of the tool, brand managers need to think creatively about what user-generated content they're going to display. Yes, you should display a post that tags or mentions your brand. But you can also display posts that apply to your brand experience without directly mentioning it. 
For example, a nonprofit whose mission supports a city's arts community could filter user generated content made by people at galleries, museums, concerts, events, or public art landmarks throughout the city. Even if the posts don't mention the specific nonprofit, any content that has to do with people enjoying local art supports the nonprofit's broader mission and conflates their brand with the city's overall arts experience.
Similarly, a university could filter user-generated content that shows what students are doing on campus and off campus. As long as the posts are a positive representation of the institution, any photos of students bonding or participating in activities that make use of local or regional amenities can help tell the school's story.
Taking full advantage of user-generated content has been a challenge for some time. Traditionally, branded hashtags are used to incite and corral content, but users tend not to use them, and the honest truth is that experiences shared via social media seem less authentic when voluntarily associated with direct branding.
Crowdriff is a way around that. And while it's not a necessity for your website, it's definitely worth considering, especially if you have creative ideas about what experiences can be leveraged to promote your brand.
If you're interested in working a tool like Crowdriff onto your website, or would like to learn more about implementing user generated content into a marketing effort, feel free to give us a shout or sign up for idfive's integrated marketing newsletter.