Baltimore, MD  (February, 15th) Integrated marketing agency idfive has launched a redesigned website for SUNY Potsdam, an over 200-year-old school in the foothills of the Adirondack Mountains that offers a sophisticated, richly eclectic, and creative college experience.
"SUNY Potsdam has a unique brand and isn't afraid to show it. They take pride in their 'off the beaten path' location and encourage students to explore a range of educational experiences," said Jake Tarbert, an Associate Vice President at idfive. "Much of the project's success was due to the school's strong vision and their commitment to having their brand shine through design and messaging."
The SUNY Potsdam website features incredible photography and videography provided by the school, a design that mirrors the campus's natural beauty, and compelling copy that evokes the school's unique brand.
In addition to design and messaging, the website also features an updated information architecture and content structure that makes it easy for various audiences to find what they want and explore the school. Microinteractions enliven the website and attract users to the content, and consistent call-to-action buttons encourage users to request info, visit the campus, and apply.
"The website's ability to capture our brand while remaining functional across all devices is something we're very proud of," said Mindy Thompson, Assistant Vice President for Communications at SUNY Potsdam. "No matter what device they use to explore our website, new audiences can find out exactly who we are and where we're headed."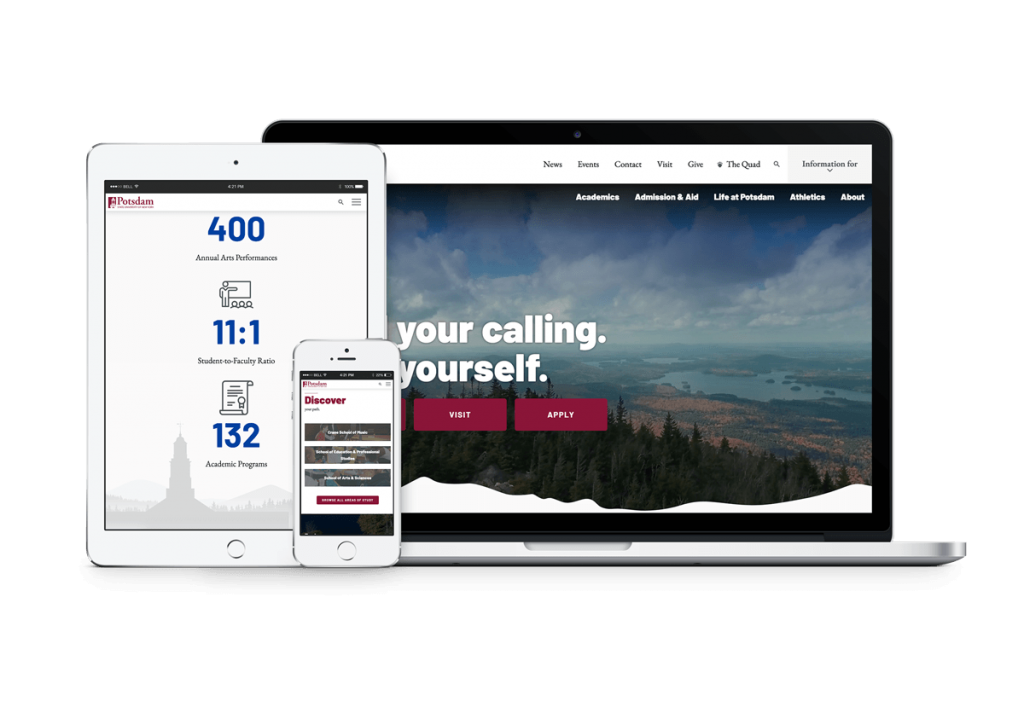 *Photography by SUNY Potsdam College Communications
About SUNY Potsdam
Founded in 1816, The State University of New York at Potsdam is one of America's first 50 colleges—and the oldest institution within SUNY. Now in its third century, SUNY Potsdam is distinguished by a legacy of pioneering programs and educational excellence. The College currently enrolls approximately 3,600 undergraduate and graduate students. Home to the world-renowned Crane School of Music, SUNY Potsdam is known for its challenging liberal arts and sciences core, distinction in teacher training and culture of creativity. To learn more, visit www.potsdam.edu.
About idfive
idfive is an integrated marketing agency that works with brands on a mission in education, health, nonprofit, and social design. Born in the digital age and raised in Baltimore, the agency uses research and user experience to guide its web design, communications, media, and branding practices for a broad range of clients—including Colgate University, United Way of Central Maryland, the Maryland Food Bank and Walden University. Honored for award-winning work and company culture, idfive's 40-plus-person team strives to produce great work for brands it believes in. idfive operates offices in Baltimore, MD and Medellín, Colombia.