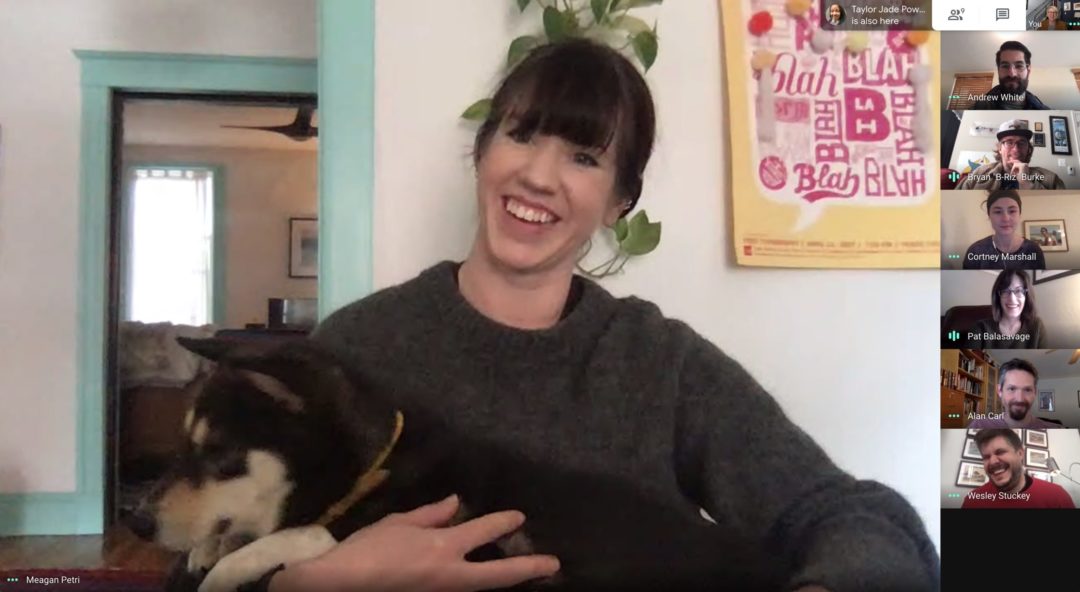 By idfive \ March 18, 2020
As the COVID-19 crisis continues to expand and evolve, more and more companies are suddenly stepping into unfamiliar territory: a completely remote staff. Maintaining normal levels of productivity and interaction is difficult in any crisis, but for many, this is an unprecedented challenge.
idfive is already ahead of the remote work curve with our office in Medellín, Colombia, and several other team members scattered across four time zones. Now that our entire team is working remotely—and, dare we say, not missing a beat—we'd like to share some tips on how we're staying collaborative and creative as we weather this storm.
Collaboration
It's easy to share a conference room and whiteboard for a brainstorming session or to walk over to a coworker's desk to ask a question. But when you're stuck in separate locations, you have to adapt to succeed. Here's what's working at idfive.
Use the right tools—and fix your hair.
For us, it's Slack and Google Hangouts, which we already use regularly for messaging and meetings. We're relying on them now more than ever, and we're also turning on video for every call so we can see each other's smiling faces. Face-to-face human contact, even virtually, is vital to staying connected and sane.
Get your clients on board, too.
We recently shifted a full-day in-person collaboration session with a new client entirely online with great success. To keep the project moving and spirits high, we shortened the meeting and altered the goals based on the project scope and overall schedule. Our facilitators also acknowledged the challenges of the remote session upfront and actively encouraged everyone to participate so no one was left out of the conversation.
Have fun when you can.
Sharing some moments of levity in an otherwise stressful time keeps us feeling connected, and the more we laugh together, the more bonded we feel.
Our creative team meets weekly to share work and thoughts, discuss relevant topics, and generally catch up with each other. This week, our meeting included pets!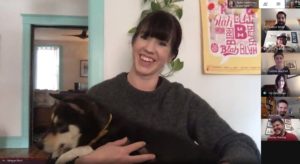 We also set up a Slack channel called #goodvibes for the expressed purpose of NOT talking about the COVID-19 crisis. So far we're sharing adorable photos of kids and pets (notice a theme here?), entertaining things to do at home and online, ways to help our Baltimore community, virtually, funny memes, general hilarity, and other tidbits that promote, well, good vibes.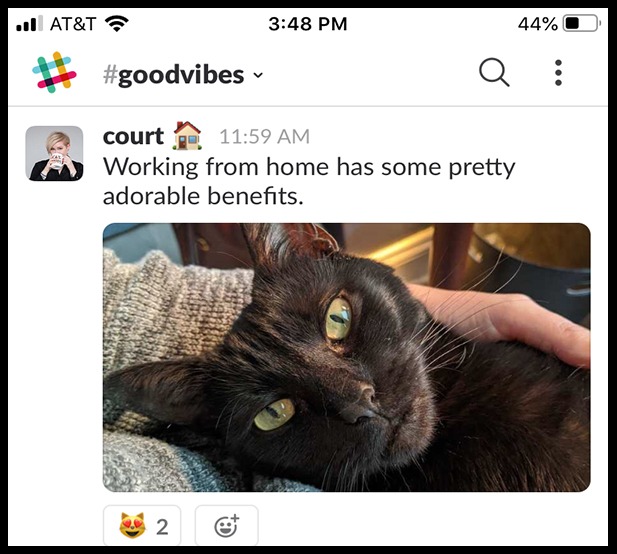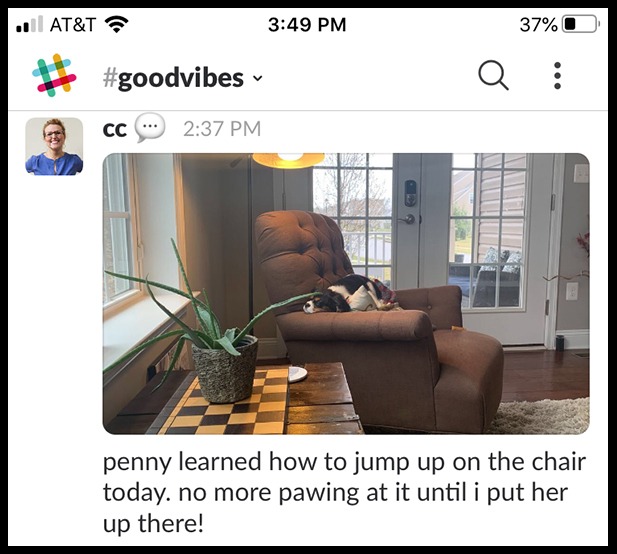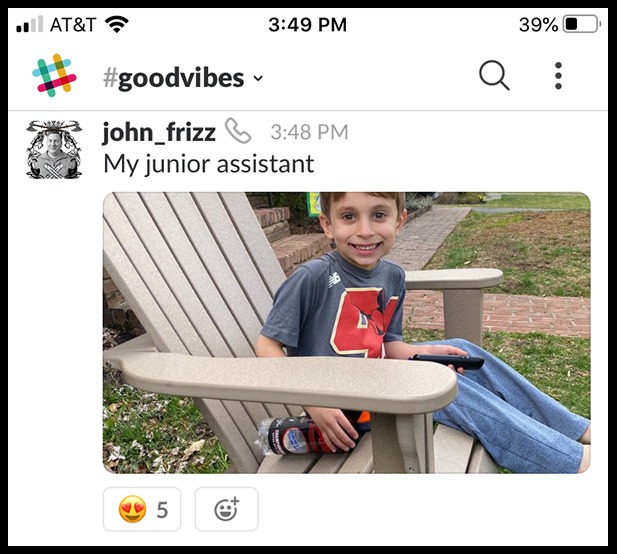 Ever wonder what happens when 20 people get together for a virtual happy hour on Google Hangouts? We did. So we decided to find out.
Creativity
Our creative team thrives off of the energy we get from each other in person. But now, we're having to rely more on ourselves to stay energized and motivated. This is how we're keeping creativity high as we settle into the reality of remote work.
Find online experiences to replace in-person ones.
No surprise here—we're all culture vultures. To keep up the cultural immersion that we need to stay creative, we've found some great resources online.
With concerts and events being canceled and postponed, many artists are sharing content via Instagram Live, Facebook, YouTube, and other social channels. Follow your faves and keep your eyes peeled.
Craving a tour? You can visit some of the world's best museums, galleries, and cultural sites virtually. A quick Google search will point you in the right direction.
If performances are more your thing, check out leading symphonies, operas, and theaters for online access to their best works.
Recommitting to old hobbies and finding new ones.
Many of us are finding we have an extra hour or two of free time in our day now that we don't have to commute or even find pants. Hobbies are a great way to cultivate creativity at any time, but even more so now. Several of us plan on dusting off our foreign language skills, and one teammate is relearning how to play the piano.
Get offline, get moving, and get outside.
It's entirely too easy to let work encroach on your home life now that they've merged into one location—and that quickly leads to burnout. Our team is making a point of establishing set working hours to maintain that separation. We're also trying to incorporate daily exercise and outdoor time (bonus if it's both at once) to keep our minds and bodies fresh.
Stay safe and healthy, friends!