No matter the industry, your marketing content should be developed for a single audience and with a single goal in mind. In higher education marketing, that often means creating content that engages prospective students and encourages them to apply.
Content made for this purpose should be different than content designed to impress academics, persuade donors, influence rankings or any other institutional goal. Each of these goals requires specific creative content and distribution methods, so don't try to do it all at once.
The good news is that there are plenty of hyper-focused email newsletter examples to borrow from. The New York Times' first college student-focused newsletter, The Edit, for instance, is perfectly crafted for student audiences. Everything from The Edit's email design to article topics is geared towards the young demographic, all the while remaining close to the respected New York Times brand. It's a feat many schools should aspire to achieve.
If your institution wants to gear its content marketing strategy to the specific goal of engaging high school aged prospective students, then check out these five tactics used by The Edit.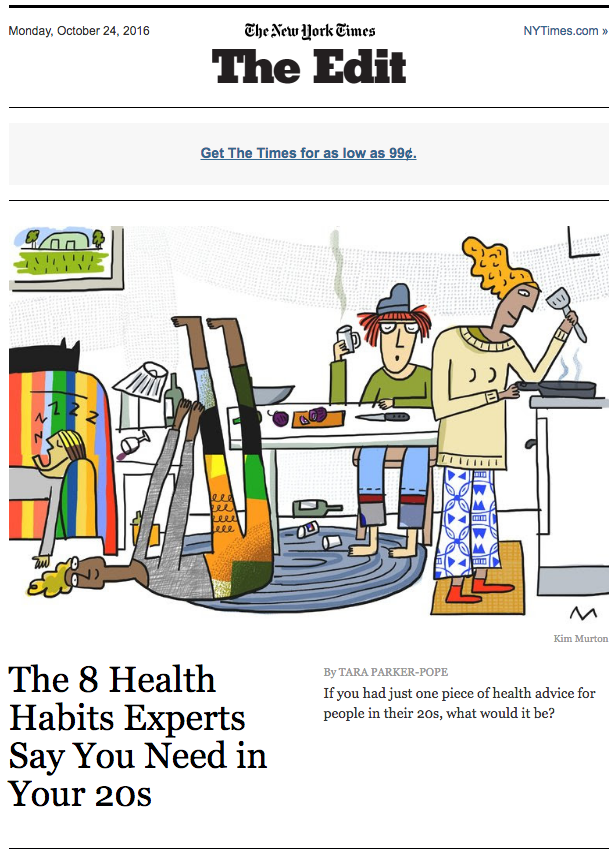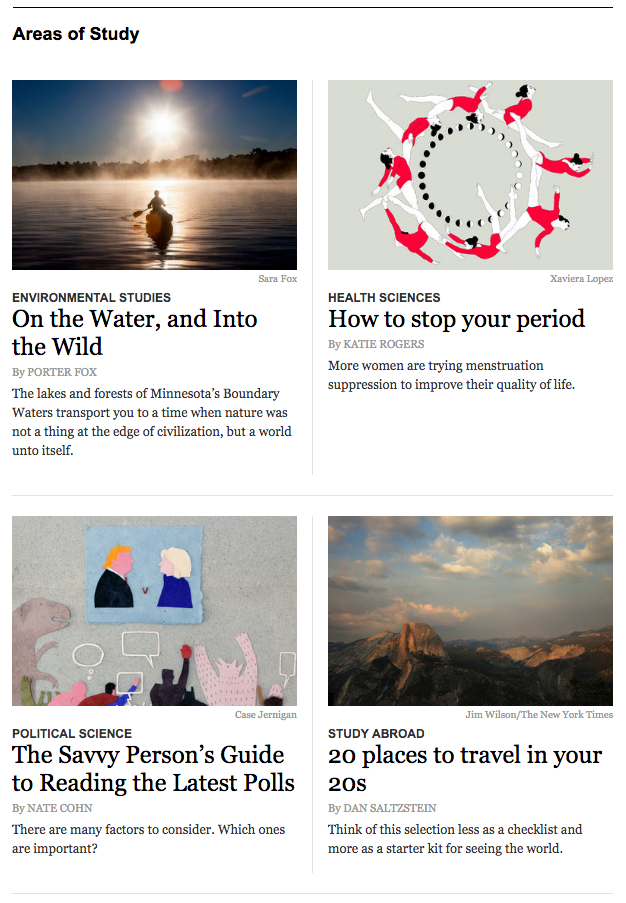 Write content, not news: If you really want to engage young audiences, then take a hard look at the topics you're writing about and make sure they're something that a high school student, and not your board of trustees, would want to read. The New York Times, for example, understands that college students aren't quite ready to jump into hard-hitting journalism, and instead writes content like "The 8 Health Habits Experts Say You Need In Your 20's" for their newsletter. Institutions of higher education are here to challenge us and set the bar for education, but that doesn't mean they can't take a lighter approach to their marketing content.
Expand your content ideas: Not every piece of content has to be directly about your university. If you have a batch of prospective students who are interested in your film program, you could write a blog about Top American Film Makers or Best Classic Movies, as long as there's a call to action at the end that promotes your film program.
Personalize the email design: Having a well-designed, highly-branded email template can be a great way to encourage prospects to view the content you send. It's the best way to communicate at a quick glance that this is a "special" email, different from other emails like application reminders. Looking at the email design for The Edit, you can quickly tell it's from the New York Times, but with captivating photographs and illustrations, it feels more like a magazine for smart young readers than a traditional newspaper.
Categorize content: The Edit leads with a few articles that are applicable to all types of college students, and then provides additional articles related to different educational interests, such as "Economics" or "Visual Studies." Categorizing your content like this is another smart way to reach particular student groups while ensuring there's something for everyone in the newsletter send.
Personalize content: The most important thing about The Edit is that it's personalized. Schools should take note and not send prospective students the same content they send alumni, or even send prospective math students the same content they send prospective literature students. Use what information you have about your audience to send an email with personalized content, even if it's just once.
As a higher education marketer, you now have more freedom than ever to create content for distribution on your institution's channels. How do you plan on using this freedom?
Whether you plan on using it to increase enrollment or engage alumni you will need to focus your content and distribution methods solely on a particular audience and goal, and not rely on old methods used before marketers had the ability to personalize.
To learn more about using content marketing to generate leads and increase enrollment, sign up for our monthly newsletter or give us a shout!