Rob Beal Retreat: Honoring a Legacy, Connecting for the Future
Like so many other organizations, idfive went remote in March of 2020. All of a sudden, our close-knit team went from working next to each other in our open office — where questions could be asked (and answered!) with a gesture or a raised eyebrow — to a world of scheduled video conferences on Google Meet. Slack replaced hanging out in the kitchen chatting while grabbing coffee or noshing on fresh-baked bread a fiver brought in from the bakery he passed on his way to the office.
But we, like so many others, made it work. Sure, for some of us used to shouting across the office for a status update or popping into a conference room for an impromptu lunch/strategy meeting, making the transition from spontaneity to schedules and in-person to on-screen took some getting used to. But as the weeks and months went by and we all settled into the pandemic's "new normal," it didn't take long for the idfive spirit to come back, albeit in a more virtual form.
Of course, like many of you, we figured that it wouldn't be long before we were back together again. After all, how long could this COVID thing last?
Um…yeah.
To be fair, things are looking up. Luckily we're from Maryland, one of the states listed in the top 10 for best response to the COVID pandemic, and measures such as mandatory masking and social distancing are slowly being lifted, although it's pretty clear that none of us are out of the proverbial woods yet.
So that's where we decided to go.
OK. Sorry. Putting it that way was more for dramatic effect than anything else. While the Genesee Valley Outdoor Learning Center does have some lovely woods, that's not what they're all about. The former 150-acre farm is all about guiding groups through leadership programs that facilitate success and group cohesion through shared outdoor experiences.
In other words, they help people connect in new ways.
We'd had two outdoor field days at Genesee Valley in the years prior to COVID and they'd been pretty special. After all, it's one thing to work with someone five days a week, but it's quite another thing when you're one of the people responsible for guiding them to safety after they've zip-lined a couple of hundred yards over a course that began among the towering oaks clinging to a steep hill, over water, and up onto a 20 foot-high platform. Sure, we'd relied on each other at work every day, but when you have to rely on a colleague to double-check your harness so you don't, well, die on a challenge course — that's a whole new level.
We'd missed last year because of the pandemic, but we knew it was time to get together in person again. Not only did we all miss the living heck out of each other after over a year of working virtually, but we also needed to get together for another really important reason: to pay tribute to our CEO and founder Rob Beal. He'd passed away earlier in the year, and we never really had the time to honor him in a way he deserved. Now we had our chance.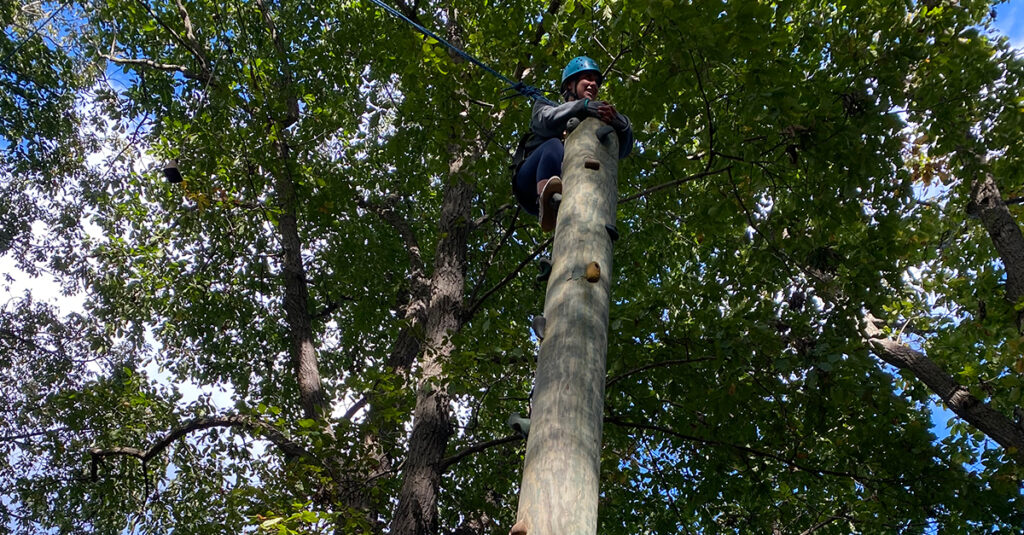 Rob Beal: Visionary, Inspiration, Mentor, Friend
Rob was an amazing guy. A born entrepreneur, he got his start by launching a printing business as a teenager in rural Massachusetts. Somehow — nobody's really entirely sure how — Rob used his contacts to land a sports talk show on a local TV channel. Still just a teenager, he quickly became a local celebrity, his fame bolstered by a high school baseball career that landed him a college scholarship, followed by a position in a farm league for a Major League Baseball team.
Unfortunately, Rob got injured his first year and had to leave pro sports before he had a chance to make his mark. But while others may have lost hope of having their dream career before it even started, Rob did what had always worked for him as a pro baseball player. Faced with adversity, he put his head down, fixed his eyes on his goal, and ran like hell towards the next base.
In Rob's case, his next "base" was business. Starting as a print production consultant, he moved to Baltimore and worked his butt off, soon establishing a reputation in the local ad community as the go-to guy when an agency needed to ramp up its print chops. He ended up specializing In financial services and made some key connections —and, to be honest, friendships — with some of the top investment banks and private equity firms in town.
That's when things really got interesting.
He first applied his skills to help transition the internal design shop at legendary investment bank Alex. Brown into the digital age. Later, when Deutsche Bank bought Alex. Brown, Rob helped his design department colleagues keep their jobs by transforming them into an "outsourced" resource: a new company called Design By Five staffed by Alex. Brown design professionals. Rob had worked the numbers — his Excel skills and business acumen were legendary. He determined that his new company — made up entirely of Alex. Brown designers, producers, and copywriters — could service Deutsche Bank for less money than a new Baltimore department could. Rob also promised better work in less time.
He pitched his idea to the bigwigs at Deutsche Bank, and they saw the benefit immediately. Design By Five ( known as "D5" by insiders) was launched as the in-house agency for DB's Baltimore office, with most of D5's folks sitting in the same seats as they did when they'd been Alex. Brown employees. Rob's new career was firmly in place.
But he soon realized that what they were doing wasn't enough. This was the early 2000s, and as the economy started to recover from the shock of 9/11, the internet was becoming an indispensable element of the country's business, especially in the financial sector. D5's background was in print; they needed some digital gurus.
They quickly found two small companies interested in becoming part of Rob's growing team and merged them with D5. However, knowing that this new entity had more capacity than DB could handle, Rob realized that it would be more successful as a separate company. idfive was born.
As the new century progressed, so did Rob's reach. Leveraging his business sense and financial expertise while guiding idfive through our early growing pains, Rob developed a portfolio of companies he led or invested in. As idfive found its legs, he moved back to the Boston area to shepherd these new ventures along.
Starting in the 2010s, his businesses flourished. As they grew, and as new ones were created, we didn't get to see Rob as much as we used to, but his presence was always there. He'd come down and hang out with us, tweaking a bit of the business here, teaching his Excel magic there, always challenging us to be better, with a humility and sense of humor that we'll always treasure. Although Rob wasn't with us every day — he was confident that idfive's leaders were more than capable of shepherding what he started into the company we are today — he remained an integral part of idfive. The fact that we didn't need him around every day wasn't a source of sadness to him, it was a source of pride.
Sadly, in late May of 2021, Rob was taken from us by illness. It was an incredibly difficult blow for those who'd been here since the beginning. We'd lost a mentor, a visionary, and, most importantly, a friend. From the beginning of idfive, Rob always seemed like a guy that no force of nature or business (or higher ed administration!) could defeat. He could fearlessly conquer any obstacle he found in his way, taking it out with his signature humor, insight, and insight.. But, we found out, there were some obstacles he couldn't demolish. We will miss Rob, our partner, our guidepost, our friend. But even though we feel like the world has lost a truly special person and we feel lesser for it, it gives us joy to know that Rob always saw our success as one of his greatest legacies.
Honoring a legacy, connecting for the future
Rob Beal died in Massachusetts with those who were closest to him by his side. It was at the height of the pandemic, when travel had ground nearly to a halt nationwide. While we're beyond glad that Rob was able to spend his final days near his family and lifelong friends, the distance and the circumstances didn't allow any of us to attend his funeral or pay tribute to him in the way we wanted. But then we realized: if there's one thing Rob would want, it would be for all of us to get together, have some serious fun, and spend our time not mourning him but making our connections stronger.
So that's what we did.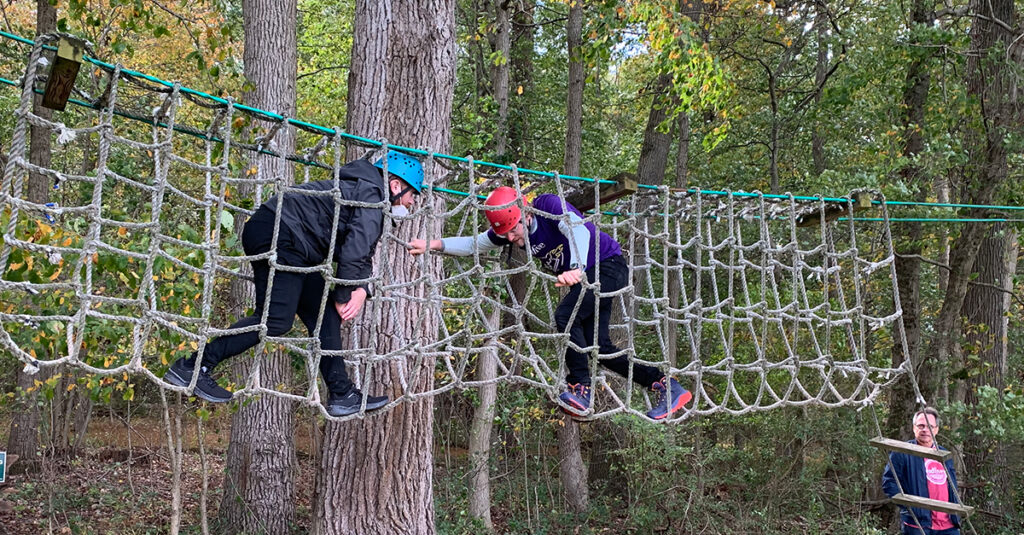 Into the woods.
As I mentioned, we'd been to Genesee Valley before. We had a great time and used the experiences they created in their outdoor education center to learn more about ourselves and each other, using that knowledge and the experience to grow closer as a company. What better way to honor Rob's legacy, we thought, than to hold a field day in his honor?
Starting at 8:30 on a beautiful fall morning, all the Fivers who were able to make it — including some of our far-flung colleagues from around the country — converged on a gorgeous farm in northern Baltimore County, around 30 miles north of our Midtown Baltimore location. We'll spare you a description of the day's curriculum, however. There are only so many ways to describe seeing Andres running around in a field, flapping his arms like a chicken (or maybe a dinosaur?), and no good way to describe the terror … err …. we mean team building that comes from trying to shuffle across a wire suspended between two 150-year-old oaks on the side of a hill so steep it looks like a sheer cliff. Besides, that's kind of the point of the whole challenge course: it's about experience, not talk.
But while we had a great time and learned a lot about each other and how to work together better to solve problems even if we're remote — the best part was that we were able to do so while honoring the man who'd guided us to the place we are today.
We're always going to miss Rob and regret that we just can't pick up the phone or send him an email when we need some advice. But the fact that we were able to have such a meaningful, moving, and educational experience together — especially after the isolation of COVID and our countermeasures to defeat it — all while having a chance to say "goodbye" and "thank you" to a man who's touched all our lives at idfive, made the day a fitting tribute: We put our heads down, fixed our eyes on our goal, and ran like hell towards the next base.
Good job, Fivers! You kicked ass, as usual. And thank you, Rob Beal. Your friendship and guidance is something none of us will ever forget.
Sean Carton
Chief Strategist
Sean Carton
Chief Strategist
Sean leads our Discover360 engagements, gathering data and research to develop the insights necessary for crafting effective strategies for our clients. He has a perfectly varied background for our higher education and nonprofit partners: He's served as everything from a dean to an adjunct professor to the co-director of a high school cybersecurity summer camp to the leader of a university 3D printing lab. Sean also has an uncanny talent for creating the perfect meme faster than you can search for one.