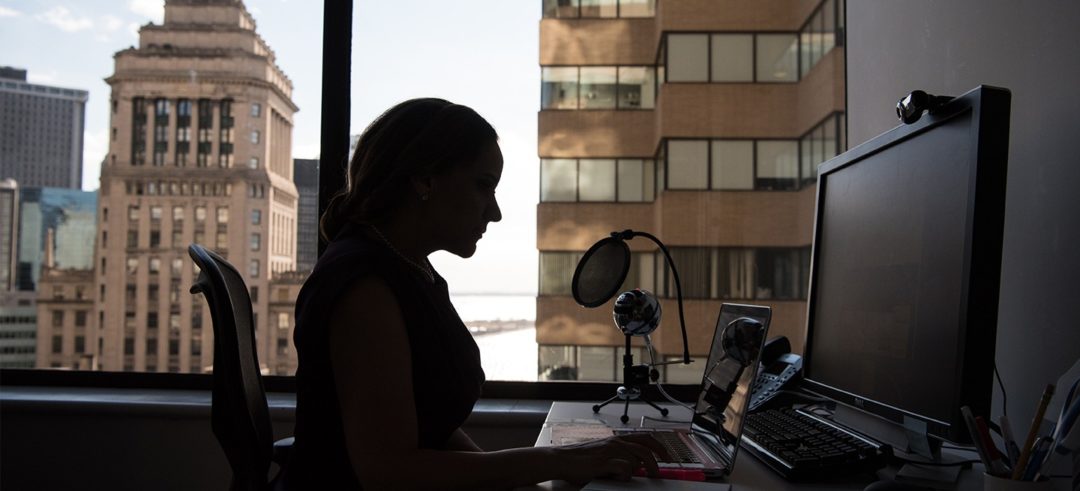 During this coronavirus crisis, we're all practicing social distancing (Right? Right!) and avoiding groups bigger than 10 people here in Maryland, so putting on events and other gatherings are out.
But what if you're a non-profit where events are a big part of what you do? What if you're a teacher and you now have to enter the strange new world of online teaching? Heck, what if you're just a performance-oriented person who's just got something to say to the world?
Stream it, of course!
While live streaming events or streaming live lectures, demos, cooking lessons, or other content online used to only be accessible to folks with loads of money and a highly-skilled, digitally-oriented tech staff, today streaming is something anyone can do with a fairly minimal investment and not much technical know-how. And as services like Twitch have taught us,  there's a big market out there for streaming content and just about anyone can do it and go live.
Here's what you need to do.
"Streaming" is really just about piping the audio and video from a video camera into a piece of software that compresses it and serves it up over the internet in real-time. In some respects it's no different than video conferencing services you may have already used to communicate with your friends, family, or colleagues such as Skype, Zoom, Google Hangouts, or Facetime. The only real difference is that instead of being part of a live and limited conversation you're essentially becoming an internet-based "TV station" broadcasting to the world.
And that's the real difference: once you decide to become a "streamer," the bar for audio and video quality gets hoisted a lot higher than when you're doing a video conference — not that we all didn't wish video conference quality was better than it usually is. Additionally, because you're "broadcasting" to a potentially-unlimited audience, you need to use a service that's set up to host and "broadcast" your stream. 
If you want to become a streamer, here's what you need:
A computer

: It doesn't have to be anything super-fancy, but experts recommend at least a computer with an  Intel Core i5-4670 processor (or its AMD equivalent), 8GB of RAM and Windows 7 or newer. Not sure what you have? On Windows go to Control Panel > System and Security > System to see what kind of processor you have. If you have a Mac, any system built in 2018 or beyond should do. You should be able to get a PC with the minimum specs for around $300.

A camera.

One of the reasons that people look terrible during video conferences is because built-in laptop cameras suck. Not only is their resolution limited top 720p (1280×720 pixels or 9 times less than a "4k" camera, now considered more-or-less the standard for "good quality" video), but they usually don't incorporate modern features such as color correction or face recognition. Dedicated streaming cams usually do, and

here are 5 suggestions of cameras between $199 and $399

. Even if the service you're using doesn't currently support 4k (and many don't as of March 2020), they will. Be prepared.
A microphone.

This is a biggie. It's a lot easier to tolerate low-ish video quality when the sound is good. The microphone built in to your computer isn't. For decent quality you're going to need an external microphone You can pick up

a good one for around $130

.
Streaming software.

There are a lot of choices out there for good streaming software and fortunately many of them are free. However the software you use may be dependent on whatever streaming service you pick. Check with your streaming service provider to find out what you need. Many have posted lists of software that works well.

Here's what Facebook suggests

(and how to set it up) and

here's what Google suggests

for YouTube Live. Best of all, most are free!
A decent internet and wifi connection.

Surely your broadband connection is good enough, right? Not so fast (pun intended)! Many aren't. To get 720p video (currently the standard with Facebook Live, YouTube Live  and Twitch) you're going to need a connection with at least a 5.7 megabytes per second upload speed. If you're a math whiz who has already figured out that 5.7Mbps is a lot higher than the 4.16Mbps that makes sense for 30 frames per second video congratulations, you're right…and much better at math than me. However

as this article suggests

, it's always good to have a connection that's 35-40% faster than the minimum because you'll need an upload speed that's sufficient on the average, and most ISPs don't do a great job of delivering consistent speeds. To take other small steps at improving internet speed,

check out this article

.
Miscellaneous cables to hook everything together.

Because your cabling needs will vary depending on what kind of camera/microphone/computer combo you decide to use, it's not really possible to tell you exactly what cables you will need for your streaming rig. Just remember to build cables into your budget: they're not expensive (

for the most part

), but they could add as much as $50=$100 to your setup.

Newegg

has a great selection of cables at bargain prices.
Lighting.

If you're serious about good quality, lighting is extremely important. There's a reason professional videographers and photographers use extra light sources while they're capturing video or picture: lighting can make all the difference between video that's unviewable and video that shows what you want it to show. For a good intro to the kind of lights you'll need as a novice streamer,

this article

has some great suggestions. And, as you'll see, most lighting packages cost less than $200. 
A streaming service.

These days there are a lot of choices, but

Facebook Live

,

YouTube Live

,

Twitch

, and

Livestream

are all good choices used by most folks. Prices range from free for basic plans to, well…the sky's the limit when it comes to huge events with very large audiences. Check with the service of your choice for details.
If you're new to streaming and aren't already an AV club geek (and I mean that with the utmost love as a former elementary school occasional projectionist), a basic setup should set you back around $880 bucks(not including the cost of your internet service and any streaming service provider fees).
| | |
| --- | --- |
| Component | Cost |
| Basic computer with an  Intel Core i5-4670 processor and 8GB RAM, not including monitor. | $300 |
| Streaming camera | $199 |
| Microphone | $130 |
| Cables | $50 |
| Lighting package | $200 |
| Software | Free |
| Total (minimum) | $879 |
Pricey? Well, considering that it may have cost you literally millions of dollars to set up a TV station just a few decades ago (not to mention the cost of a nearly-unobtainable FCC license), becoming a streamer is quite a bargain, especially if coronavirus has left you no other alternatives to get your otherwise-live content out there to your constituents.
Sean Carton
Chief Strategist
Sean Carton
Chief Strategist
Sean leads our Discover360 engagements, gathering data and research to develop the insights necessary for crafting effective strategies for our clients. He has a perfectly varied background for our higher education and nonprofit partners: He's served as everything from a dean to an adjunct professor to the co-director of a high school cybersecurity summer camp to the leader of a university 3D printing lab. Sean also has an uncanny talent for creating the perfect meme faster than you can search for one.