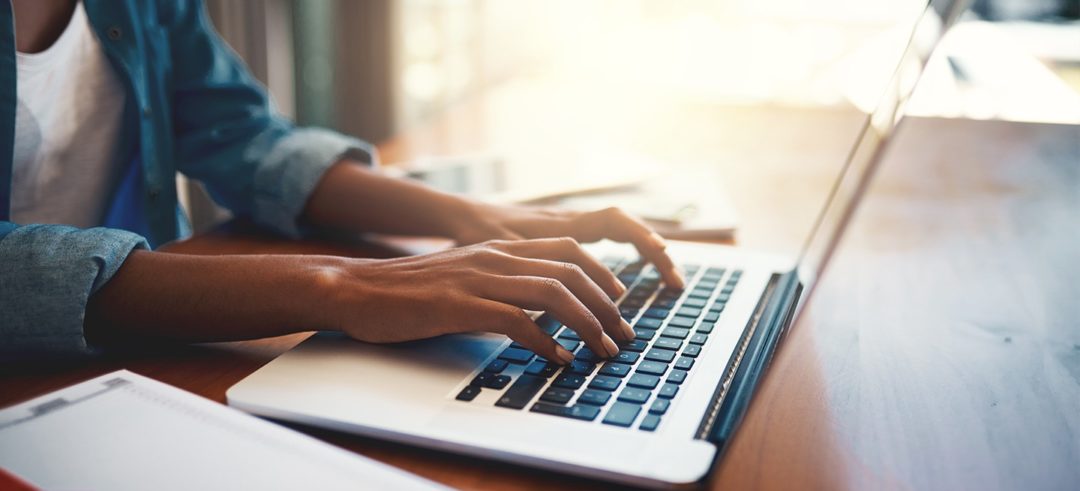 Website administrators spend a lot of time and energy ensuring that the content on their sites delivers a high-quality user experience. For administrators of institutional websites, this job is often done for over 10 websites with 100-plus pages on each one—many of which end up changing and growing week after week.
While administrators are busy ensuring a great user experience for the end user, who's ensuring a great user experience for them? Here at idfive, we consider both. And we've found that when administrators find it easy and intuitive to build out web pages, it results in better designed, more dynamic web pages for end-users, too. 
What systems and tools do we provide that make this demanding job easier? Follow along and find out.
The Content Management System
At idfive we build sites on a variety of content management systems (CMSs), such as WordPress and Drupal, that are packaged with very basic forms for creating content such as titles, body copy, summaries, and a few pieces of information about the content item itself (date of publication, author, categorization, for example).
However, most of the pages we build require more robust layouts and information collected from related pieces of content throughout the website. When the client doesn't have a proprietary CMS and works with an open-source tool, this same issue arises.
This is when we start to build custom content tools for various CMS's that are easy to use and give administrators more control.
Page Builders
There are a number of commercially available drag and drop page builders, which we use for a few projects, but we also build custom page builders using the Advanced Custom Fields plugin in WordPress or using Drupal's built-in fields functionality.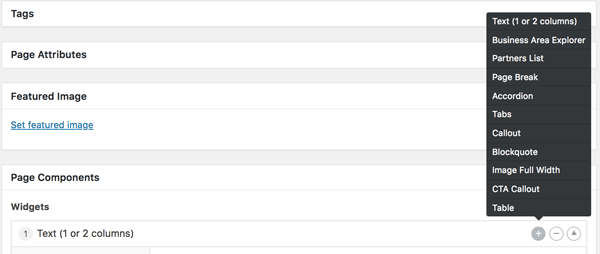 These interfaces allow a content writer to add a section from a list of available choices that have been designed for them. Examples include: tabs and accordions; content columns, image galleries, and carousels or sliders.
Centralized Data Sources
A key feature of many of the sites we build is a filter option for particular content types like academic courses or resource materials. The administrative interface for these is similar to typical posts, but usually contains more form fields for specific data. This data is determined during the information architecture and design phases of a web project, and it is during the CMS integration phase that we build a content creation process that keeps site administrators in mind. A few ways we do this include:
Reducing the chance for error: where content items have to have a single category, we prevent the assignment of multiple categories by using a dropdown option instead of checkbox lists.
Grouping fields based on context: items can have multiple taxonomies—groupings like "topic", "region", "expertise field"—assigned to them, and we keep those fields together to allow a site manager's editing flow move smoothly.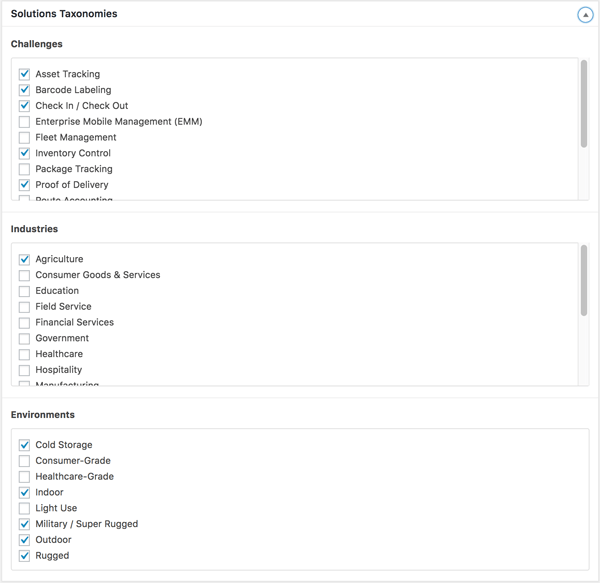 Ordering fields based on displayed output: we add fields in the same order they would show up on the page.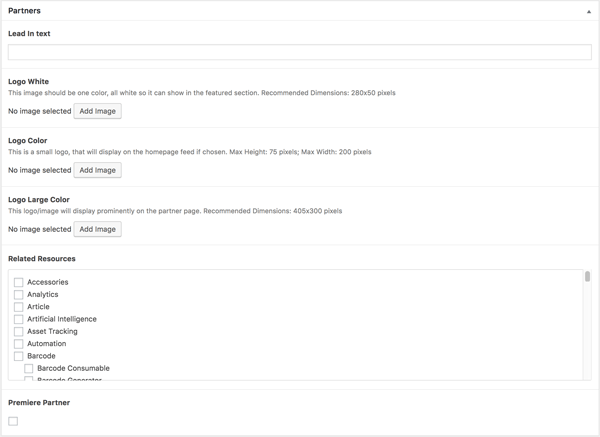 Developing automation processes: for larger sites with hundreds, if not thousands of pages, we develop techniques to help import existing site data into the new data structure we build for our clients.
Post relationships: content items can be linked to each other so that data needs to be entered only once. A good example would be an academic article that displays its authors, whose profiles are managed as entries under a directory of authors, so content managers don't need to create the profile more than once.
Workflow Tools
Anyone who works for a large organization knows that it's not uncommon for there to be multiple website administrators with varying levels of permissions and capabilities. The "website governance" of a website can become quite complicated when you have this many administrators trying to publish content.
When the need arises, idfive work with these organizations to create a more efficient website governance system. We develop tools that allow website administrators to review, comment, and assign tasks to one another so that everyone is considered but work isn't stalled.
Helping Web Admins be Great
These are just a few ways we make the process of initially populating, and continuously updating a website, as easy as possible for organization leaders and their staff members. 
These staff members do an incredible job of keeping their websites fresh and helpful for users, so the least we could do is build tools that are helpful for them. 
For more articles on web maintenance and web design for universities and other large organizations, sign-up for idfive's mission-based marketing newsletter. 
Jayvie Arellano
Web Support Lead
Jayvie Arellano
Web Support Lead
Jayvie is a hardworking developer who just so happens to be self-taught. He jumps in whenever anyone needs help, and is idfive's point person for troubleshooting and ongoing web development support. Jayvie also architects complex Wordpress builds for our clients and helps them to understand how things work. A curious, Jack of All Trades, Jayvie is an adaptable team member. He also isn't ashamed of taking home leftovers or asking, "Are you gunna finish that?"