We were looking for a group that wanted to be an extension of our team for our website redesign and into the future. Together, we have launched an award-winning website and developed a robust digital strategy.

Molly Polk

Vice President of Marketing
The Challenge
The University of Hartford offers a cross-disciplinary social education experience that involves peer interactions with fellow students who are exploring widely varied learning options. However, that very diversity had started to work against the university's overall brand. After diving deep into research, idfive put together a plan for unifying UHart's seven schools and colleges while providing flexibility for expressing each school or college's individuality.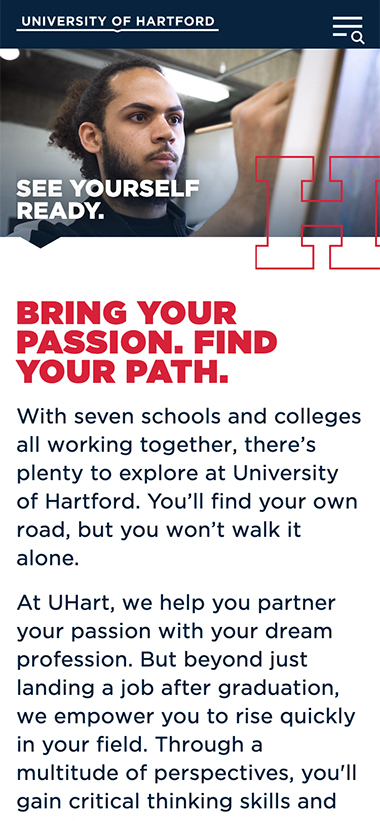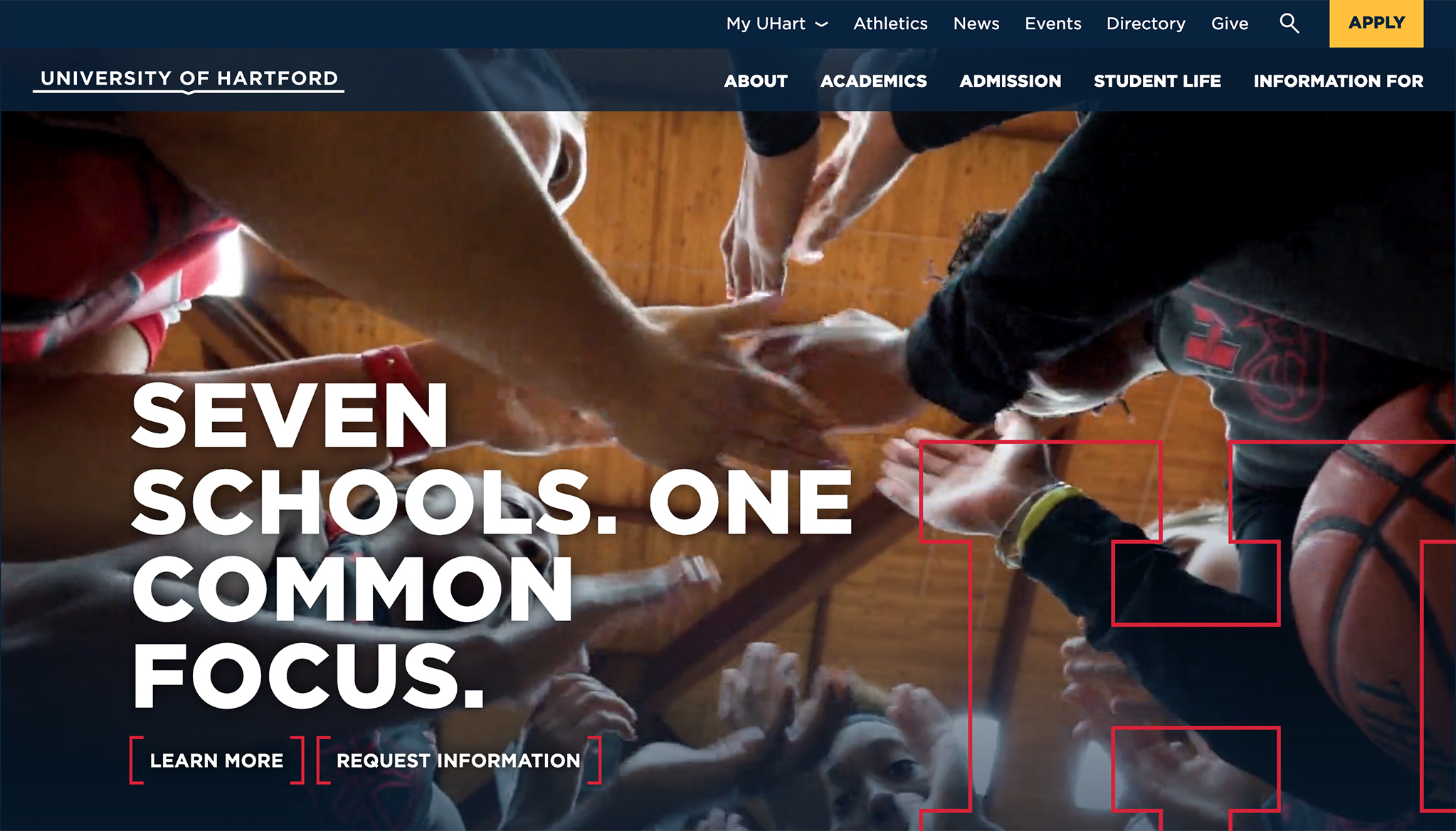 Working with the team at UHart to create this multi-dimensional campaign was a seamless effort, and we're thrilled with the results.

7

Individual homepage designs, one for each school & college
Design
Not only do UHart's seven schools and colleges offer a diverse range of degree programs from business to engineering to design, nursing, performing arts, and more, but they're run somewhat independently and each has its own take on the overall university brand. Rather than force conformity to one standard, we opted for a "branded house with flexibility" approach that ensured consistency while allowing for a range of expressions.
Using UHart's new brand standards, we were able to combine a vast array of assets, including multiple typefaces, an extensive color palette, and nearly a dozen patterns to create a visual language that feels unique to each school while also remaining cohesive with the main UHart page designs. In addition, to make the development of each school's homepage more efficient, we used many of the same modules with smart design tweaks for each page so they feel distinct but function similarly.
User Experience
Informed by idfive's extensive Discover360 process, the website's features — the homepage's program explorer, user-tested navigation, and strategically positioned call-to-action buttons — help users find the information they are looking for while encouraging them to learn more about the school by browsing.
Development
The talented team in our Medellín office was integral to the successful development of UHart's robust website. Using a suite of communications tools, our two office locations collaborated seamlessly to power through the challenging build.
Recruitment & Engagement Campaign
In order to recruit new students across all the schools, we ran a combination of up to three different Google digital campaigns for each school, focusing on connecting with students at three major stages of the recruitment funnel. We deployed Google Display advertising to build brand awareness, Google Search to drive research and intent, and Google Remarketing to remind interested students of their intent.
The campaign objective was to drive site traffic, engagement, and CTR to the University of Hartford website — positioning UHart as a top choice for prospective students in Connecticut, Minnesota, New Hampshire, Massachusetts, Pennsylvania, New York and New Jersey.
In order to monitor the success of our media campaign and overall performance of the website, idfive constructed a detailed dashboard in Google Data Studio that allowed the university to see overall website performance as well as traffic to each individual school. Using Data Studio allows the university to customize reports for each school's needs in an easy-to-understand format.
Overall, the 10-week campaign delivered 4,636,993 impressions leading to 18,813 clicks through to the website resulting in 171 conversions.
Note: Assets created in collaboration with the University of Hartford
Media Plan
We used the "branded house" strategy developed during the website discovery process to inform our collaborative work with the UHart team on student recruitment. idfive created distinct media plans by school/college, each with a separate budget and reporting dashboards, which reinforced autonomy while ensuring overarching consistency in design and messaging.
Our active management—which clearly indicated a move to responsive search ads for all campaigns—enabled us to drive action and maximize return on investment.
UHart Start
When UHart needed a print piece to present its strategic action plan to key stakeholders, idfive leveraged our earlier work for the project's design and copywriting tasks.
Balancing UHart's bold red primary color with a softer complementary blue palette, the design balances the urgency of UHart's current opportunities and challenges with a call for unity and optimism for the future. Vibrant photography of engaged students and the welcoming campus underscores the call for all community members to engage in the plan's implementation.   
The opening headline—Standing Still Is Not An Option—underscores that UHart's new plan isn't about business as usual.
There's amazing potential for good in the world. Let's give it a chance and a voice.
You in?