(December 1, 2015): The Baltimore Animal Rescue and Care Shelter (BARCS) and idfive have launched #PayItFurward, an integrated fundraising campaign to raise $100,000 for the shelter in the month of December.
The campaign kicks off on Giving Tuesday with idfive matching total donations up to $1,500, and will continue until 11:59 pm on December 31st. Throughout the month idfive and BARCS will work together to engage with the community on social media and in-person at events and locations throughout Baltimore. The campaign will include:
#PayItFurward branded dog biscuits distributed at local small businesses
Daily posts featuring adoptable animals looking for a home for the holidays
An invitation for fans to post their favorite holiday photos of their pets on social media using #PayItFurward hashtag
#PayItFurward photo ops at BARCS events
idfive staff and BARCS volunteers visiting selected companies and organizations, giving employees the chance to kiss some of idfive's and BARCS' favorite pets under the mistletoe.
"Every holiday season we give a gift to our clients. This year our gift is the support of this amazing organization," said idfive Co-Founder and EVP of Strategy Andres Zapata. "The work BARCS has done to improve life for animals in this city is just remarkable—and the fact that they're able to do so much with limited resources shows just how organized, passionate and focused they are on their mission."
"The support from our volunteers and donors is critical to carrying out our work," said Jennifer Brause, Executive Director for BARCS. "BARCS has more than 400 active volunteers and relies on donations for more than 65% of our operating budget. It's a true testament to the selflessness and passion of Baltimore. As long as this spirit continues, so will our mission," said Jennifer.
"A lot of people aren't aware that BARCS is a non-profit shelter—not a government agency," said idfive's Creative Director Matt McDermott. "They depend on donations, and they work miracles every day. The opportunity to help them is not only part of idfive's culture to give back; it's part of our duty to the city—and the animals—we love."
To give to BARCS, visit http://baltimoreanimalshelter.org/donate. To join the conversation on social media, use hashtag #PayItFurward throughout the month of December.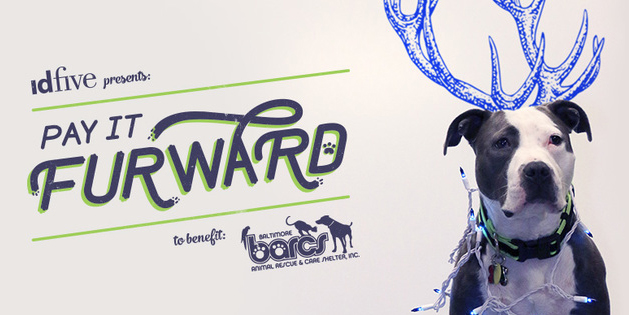 ABOUT BARCS:
The Baltimore Animal Rescue and Care Shelter (BARCS) is the largest companion animal shelter in Maryland. BARCS takes in nearly 12,000 dogs and cats of all breeds and approximately 1,000 exotic, wildlife, and other small mammals each year. BARCS serves as a resource to the community for citizens and their animals in need. In just a few years, BARCS significantly increased the number of animals saved from 240 dogs and cats in 2005 (under Animal Control) to over 8,600 dogs and cats saved in 2014. Since their inception in 2005, there has been a 3,500% increase in lives saved. The city-run shelter euthanized a heartbreaking 98% of the animals it received and now BARCS has reduced that to 20%.
As Maryland's largest open admission shelter, BARCS does not turn away any animal in need of shelter, food and a loving touch. BARCS grants refuge to every abandoned, neglected, abused, lost or surrendered animal that comes through our door – a staggering 30-35 or more animals are surrendered to BARCS daily, every single day of the year.
For more information on this story please contact Colleen Riopko at colleen.riopko@idfive.com
For more mission based marketing insight, dig into your blog page, or like/follow our Facebook, Twitter, or LinkedIn pages to let the news come to you!