Baltimore Police Department: A Force for Good
The Challenge
A changing economy, restrictive police qualification standards, and expanding responsibilities are challenging police department recruitment efforts nationwide. For the BPD, a strained relationship with the community it serves compounded these challenges. The BPD needed an authentic yet hopeful recruitment and engagement campaign that demonstrated commitment to constitutional community policing while initiating restorative dialogue.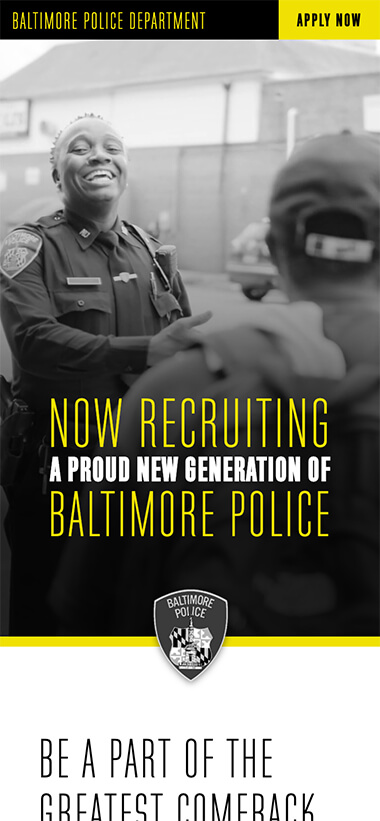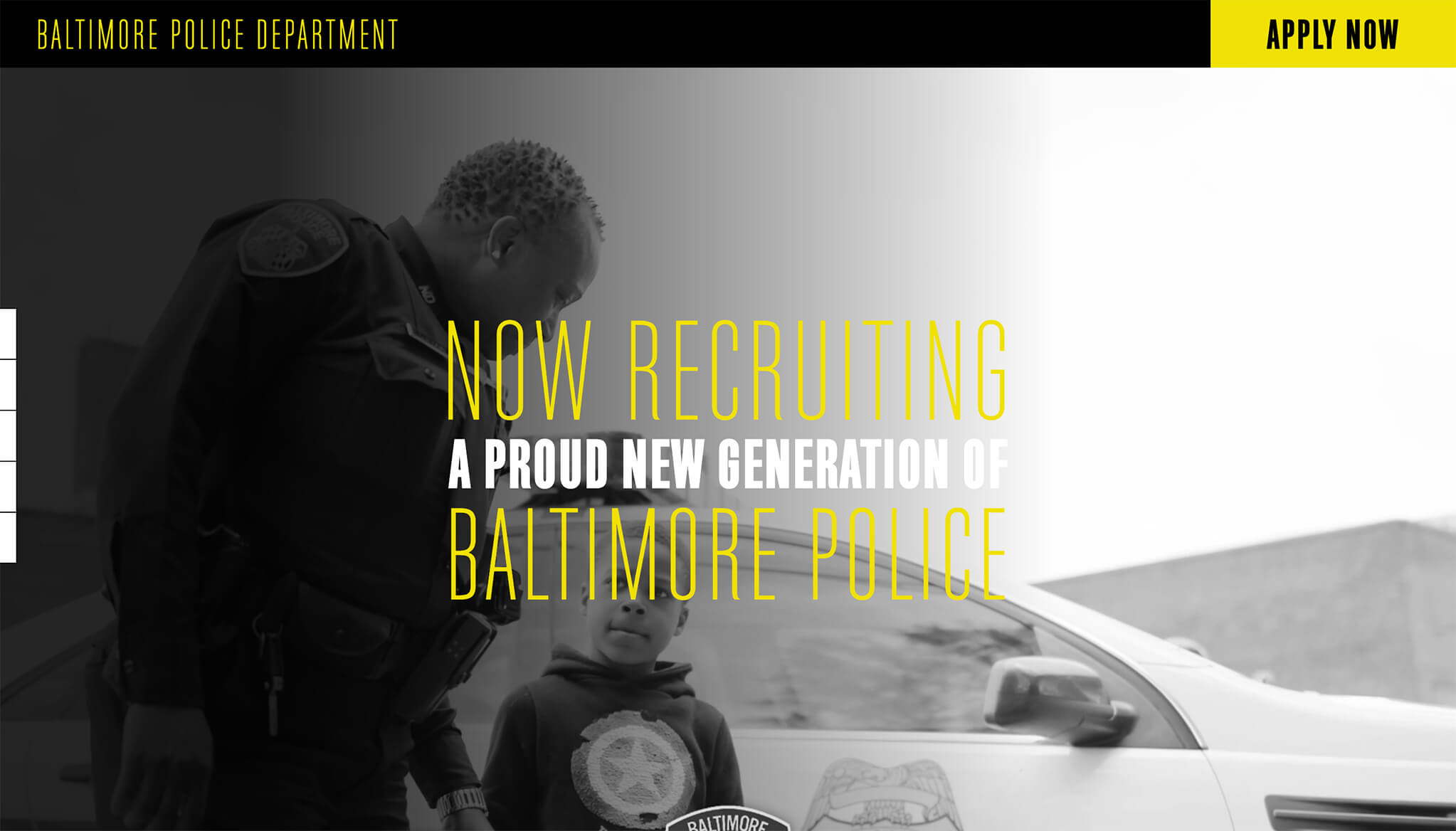 Strategy
Working with the BPD and the Mayor's Office of Performance and Innovation, idfive uncovered insights from hundreds of hours of officer and community interviews. The message was clear: the traditional macho recruitment messages weren't going to work. The community didn't want "cops." They wanted the police to be a force for positive social change.
We also realized that the best way to reach the community was through the voices and stories of the officers who had been tirelessly working to do good in their own communities. By focusing on their experiences, told in their own words, we knew we'd be able to inspire a whole new generation of recruits who were committed to doing good in Baltimore.
Branding
Bold. Honest. Unflinching. We knew that those three tenets needed to inform all aspects of the campaign. The design bucked the traditional blue often associated with police, and instead featured a bold yellow and black, the colors of Baltimore City's flag. The strong, condensed font modernized the campaign. Key elements include a main headline style, black and white photography, pops of yellow, custom icons, and the BPD shield logo. These design elements solidify the campaign's goals and maintain brand consistency.

Campaign
The campaign tells stories of real officers who've made a real difference in Baltimore. It features honest portrayals of officers and messaging that focuses on the positive aspects of policing — without glossing over the challenges. The #aforceforgood campaign speaks directly to potential recruits who want to bring change to their communities.
Design & Copywriting
The campaign includes digital display ads, paid search, and social media video content as well as :60, :30, and :15 online commercials featuring interviews, body camera footage, and officer profiles. Developed in partnership with the creative agency Kapowza, #aforceforgood sparks an honest but optimistic conversation about the future of the BPD and the city.
Our strategy for this campaign was to let the officers (and their experiences on camera) we featured tell the story. The message — be a part of the greatest comeback story in America — stressed the need for positive change agents with a commitment to social good. As the campaign progressed, we provided a deeper, more visceral look into the impact of police officers. We evolved a conversation that was sparked by negative cell phone videos and court cases into the narrative of a department recommitted to community-based policing and a city's rebirth.
Media
Online tactics allowed us to better target, measure, and manage audience segments. We focused on metro areas with demographics similar to Baltimore's — but whose police department salaries were lower and costs of living higher. We appealed to their shared experiences and promoted the benefits of a life and career in Baltimore with social media, YouTube, display, and paid search. We also rewrote and promoted job posts on Indeed and on less traditional sites like Idealist — reframing the role of police officer as creative problem solver and community advocate. Tactics led to landing pages with promoting the audience-specific nuances and benefits of a career with BPD.
Results
The campaign has paid dividends. Between July 2019 and June 2020, applications to join the BPD have doubled and hiring is on pace to increase by 33%. In just nine months, the campaign logged 13,962,753 impressions and 265,055 audience interactions, which have driven the outstanding results.
33%
Increase to hiring pace
Up Next
Forming a single brand for holistic healing.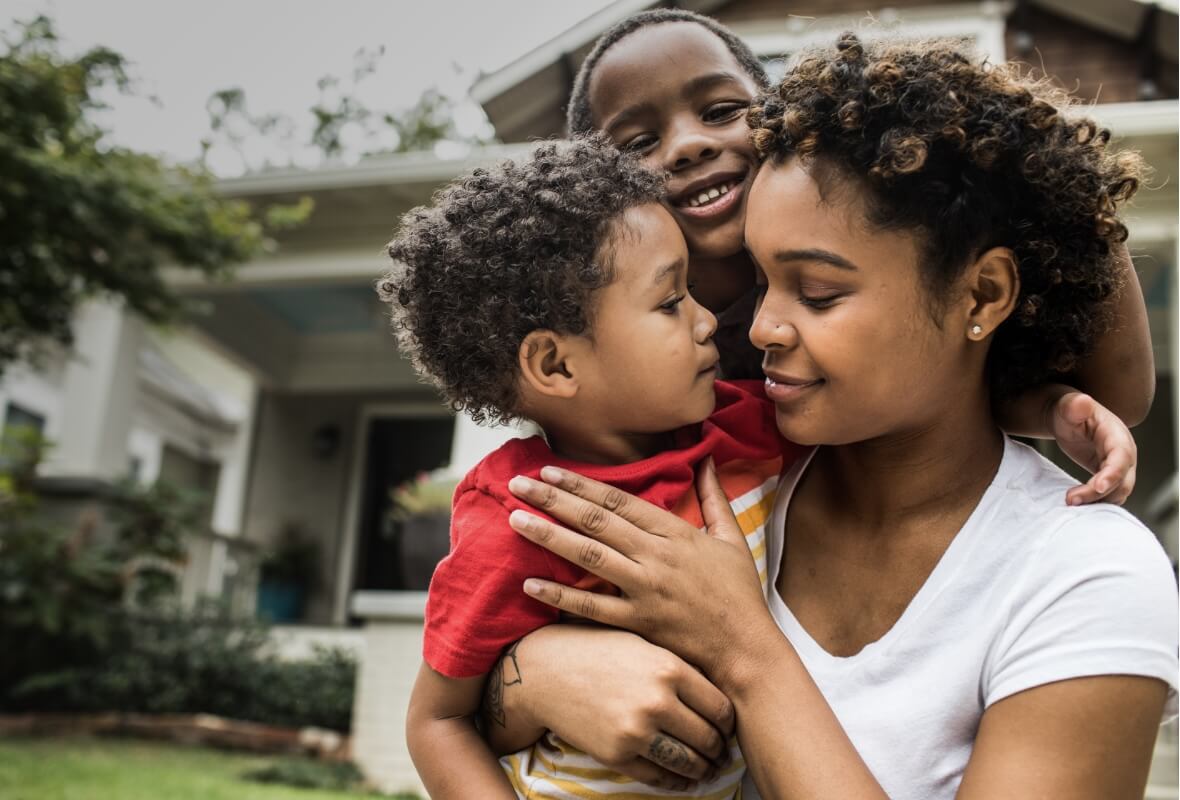 There's amazing potential for good in the world. Let's give it a chance and a voice.
You in?