Sheppard Pratt Baltimore Washington Campus
The Challenge
Sheppard Pratt needed to raise awareness for its new mental health facility near 1-95 and BWI, accessible to regional and national patients. How could they break through preconceived notions of what mental health "looks like" and introduce a new image of compassionate care in a space designed to promote dignity and compassion?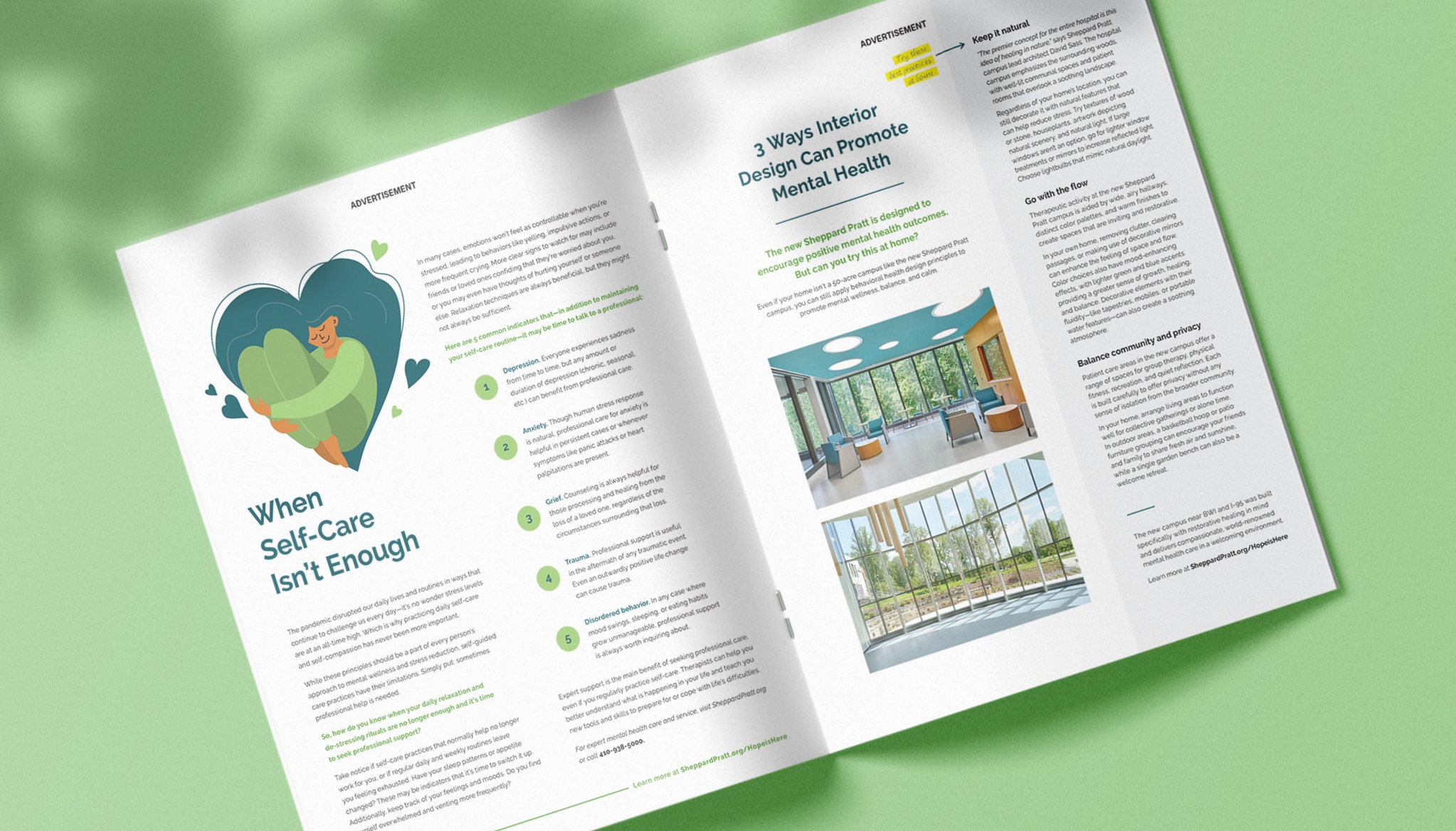 The Strategy
The opening of the Baltimore/Washington campus provided Sheppard Pratt with a unique opportunity. As it has done throughout its 150-year history, it is setting the standard of excellence in mental health care. With a humanistic, therapeutic design—patient rooms face wooded areas or interior courtyards, ensuring privacy and capitalizing on the healing power of nature—the new hospital shatters the mental health facility stereotype. We saw that the hospital could be a metaphor for where mental health is going, and destigmatize mental health treatment along the way. And opening in the midst of a pandemic, the hospital provided its patients and the region even more than unparalleled expertise: it provided hope.
The "Hope is Here" campaign encapsulated the positive emotional component of the Baltimore/Washington campus with a dual meaning: Sheppard Pratt is where people can find help, and a new facility is here to provide compassionate care. 
Media
Campaign tactics and channels included: 
Facebook retargeting and prospecting

Local news placements 

Geo-fencing

Digital Audio

Digital Billboards

Underwriting radio spots on WYPR, the local NPR station 

Light pole banners

Magazine spreads

Community center signage

Custom Logo Gobo Spotlight
Branding
The visual treatment positioned the new facility as a place of light, order, and calm, consistent with the space's soft, warm color palettes. By utilizing some of the colors, layout, and the mandala graphic from Sheppard Pratt's previous media campaign, the campaign provided brand continuity while introducing a bold, exciting new chapter for the organization.

4.4

The campaign search engine marketing CTR; the healthcare industry benchmark is 1.8%.

With mental health services needed now more than ever, I'm proud of the role our team played in building local awareness of the new Baltimore/Washington campus and its accessibility to everyone in the area.
The Result
Across all platforms, the campaign performed at or above healthcare industry benchmarks 
Leveraging the campaign's success, "Hope is Here" became the branding for the grand opening event, Sheppard Pratt's 2021 annual report, and the hospital itself: www.sheppardpratt.org/hopeishere.
2.6
Million impressions from all campaign paid media sources
Up Next
Spreading facts on the vax.
There's amazing potential for good in the world. Let's give it a chance and a voice.
You in?