SUNY Potsdam
The Challenge
Located in New York's North Country, SUNY Potsdam offers a unique college experience set in the rugged beauty of the Adirondack Mountains. It's not a school for everyone, but for the right student, a SUNY Potsdam education will be a life-changing experience. Our challenge was to create a site that attracted eclectic students from across the country who were going to thrive there.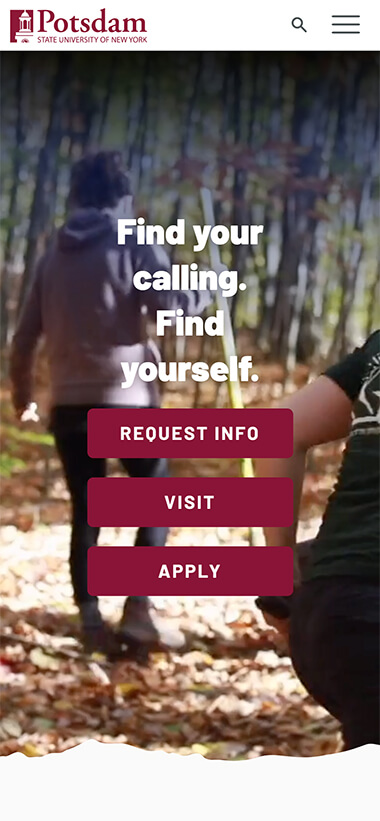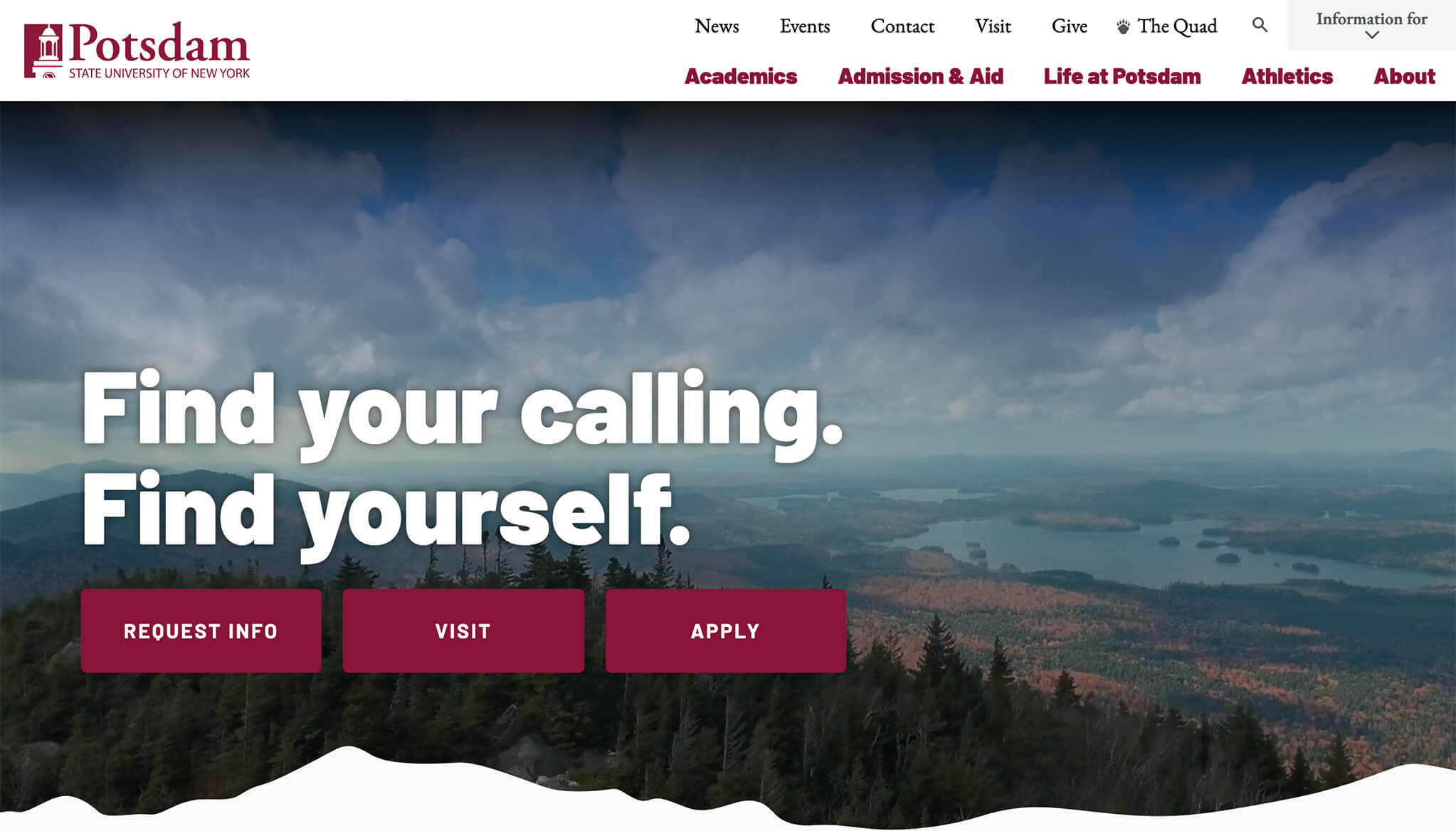 111

Student clubs & organizations

What I love about this project is that a simple insight that came out of our research — that students who do well at SUNY Potsdam are the kind of people who are looking for a unique school in a unique setting — was able to drive such great results.
Design
SUNY Potsdam offers a unique mix of a liberal arts education and a world-class school of music in a stunning natural setting. In other words, it's a one-of-a-kind experience for students who want to chart their own path. The new site leverages high-quality in-house photography resources combined with graphic touches that evoke the University's environment to immerse prospective students in all that SUNY Potsdam has to offer.
User Experience
Allowing plenty of space for the content to unfurl pulls the expansive feel of the Potsdam environment into the website experience. Prominent calls to action and large, bold buttons that are especially mobile-friendly make information gathering and the application and enrollment process even easier. Dramatic typography calls attention to important messaging and guides the user through the expressive copy throughout the site.
Development
As a small, public institution, SUNY Potsdam needed a site that is easy to maintain and grow. We helped them leverage limited resources to build a Drupal 8 site with a customized backend that makes updates and adjustments easy, without impact to design. idfive also implemented an private-access intranet portal for the campus community that mimics the public site's design and organization to make resources easy to access for students, faculty and staff.
Client Success
Our research found that students who do best at SUNY Potsdam are those who are already attracted by its eclectic features. Rather than create a generic site designed for broad appeal, we created a site that was honest and upfront in telling the university's unique story. The result? While we can't claim all the credit, SUNY Potsdam's retention rate is substantially higher than the national average.
73%
SUNY Potsdam's first-year retention rate
Up Next
Improving community resiliency to disasters.
There's amazing potential for good in the world. Let's give it a chance and a voice.
You in?