UMD Innovation Gateway
The Challenge
The University of Maryland College Park (UMCP) is the state's flagship campus and a major engine of innovation, new discoveries, and entrepreneurship. The university boasts more than 57 innovation centers across campus, but most are part of a larger division and were often difficult to find. idfive built this site to link investors, partners, students, faculty, alumni, and businesses to the full range of opportunities on campus.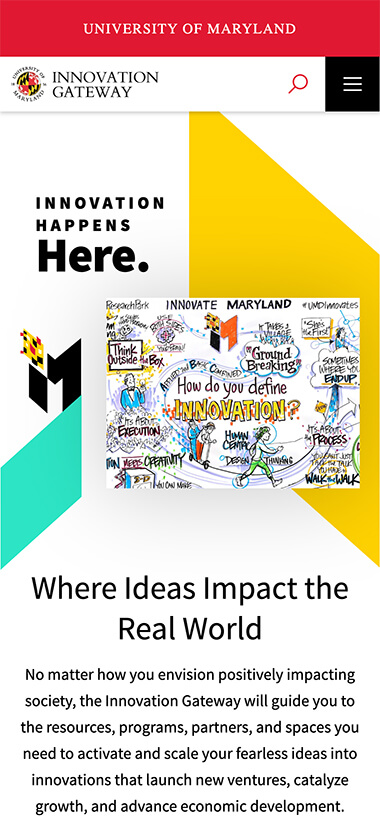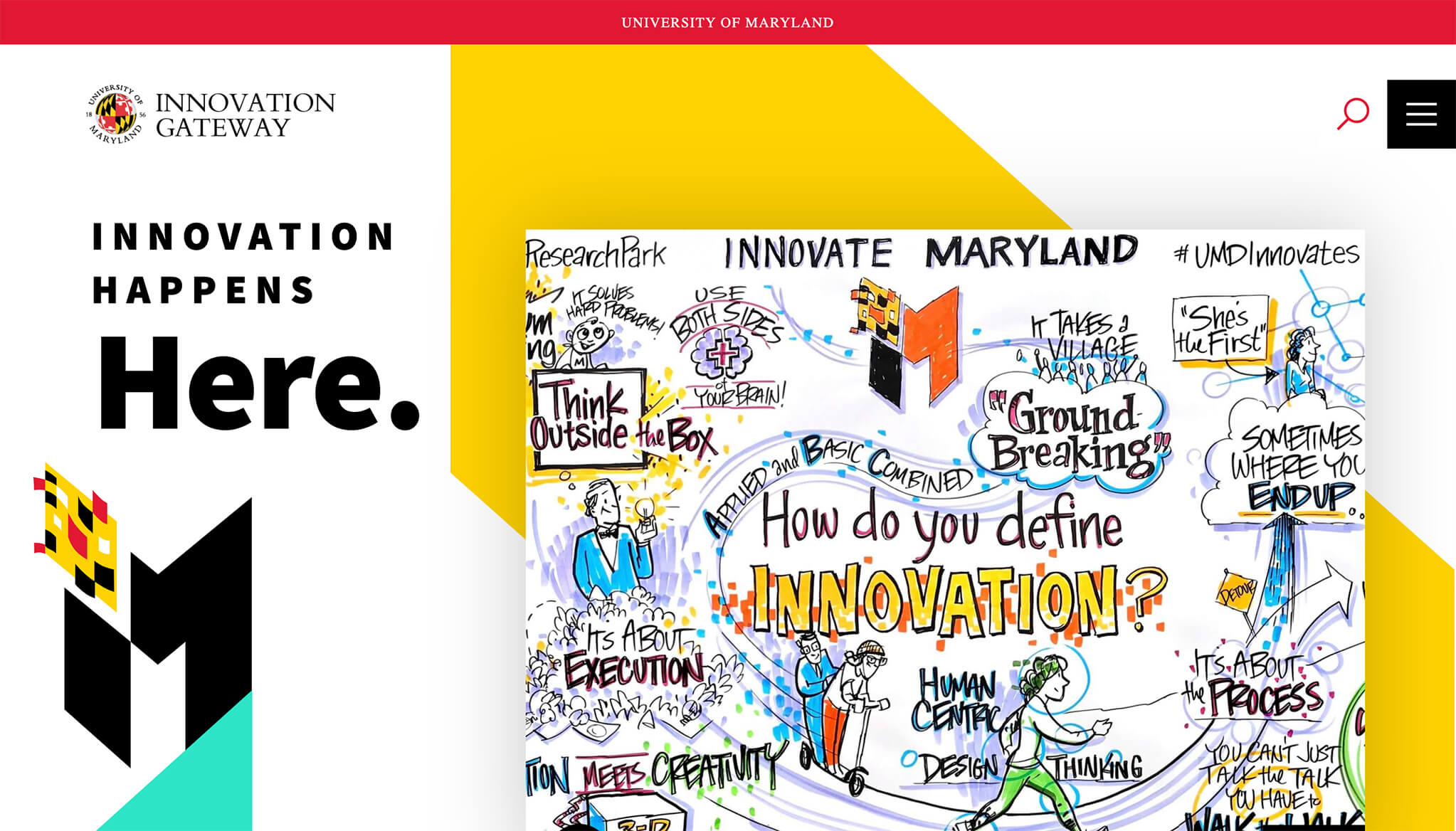 57+

Innovation entities at UMCP

"There's an incredible amount of innovation going on at College Park. It was exciting to have the opportunity to create a site that can serve as an 'Innovation Concierge' to the offices, programs, centers, and academic units blazing new trails at the University of Maryland."
Branding
The site needed to scream "innovation" while also sticking to the University of Maryland brand and guiding a wide range of users to the information and resources they need. idfive used vibrant colors and geometric shapes throughout the design to emphasize the core principles of the Innovation Gateway and invite people to explore, discover, and engage.

User Experience
The Innovation Gateway site exists to connect people to opportunities and knowledge at UMCP while also promoting the work of its more than 60 centers of innovation. However, with so many choices across so many disciplines, streamlining the visitor's experience so they could find what they were looking for — when they often weren't really sure what that was — presented a challenge. We utilized rigorous usability testing and an intuitive structure as a foundation for a site that was both visually stunning and highly functional across devices.
Development
Truly conveying a sense of innovation meant adding thoughtful, playful touches to the site through movement and interactive elements that match the feel of the design and elevate it into a full, immersive experience. And behind the scenes, we added a little innovation of our own by leveraging elements from the main university kitchen sink to create a flexible structure that allowed our team to focus on maximizing the impact of the homepage.
Innovative Functionality
The engaging, vibrant, and contemporary design of the homepage was enhanced with some innovative front-end programming. Utilizing CSS transforms and SVG, the geometry and animations of the site were developed to work across a wide range of browsers and device types including high-resolution desktops, tablets, and standard smartphone screens. Using those technologies allows the site to load quickly for users on a variety of network speeds and keeps animations feeling natural and smooth. Micro-interactions were tailored to create a consistent feel throughout the site that accentuated the site's bold aesthetic.
Up Next
Recruiting a proud new generation.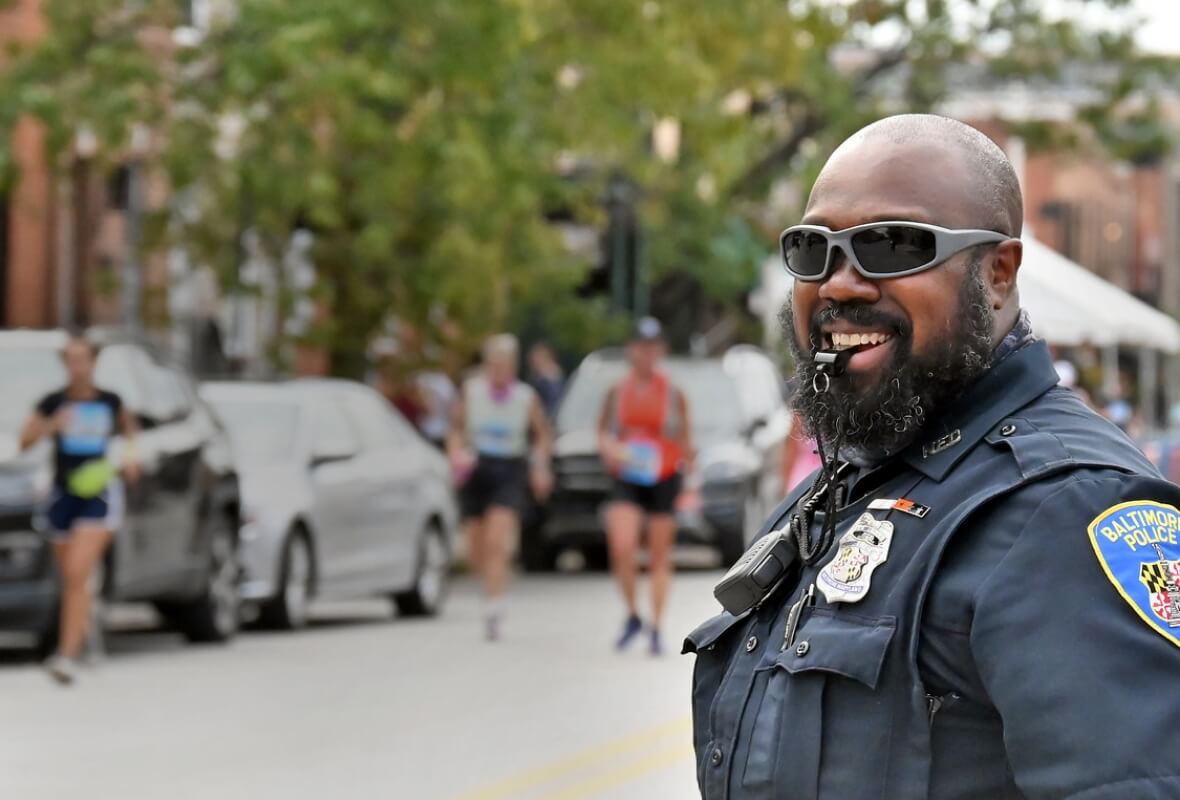 There's amazing potential for good in the world. Let's give it a chance and a voice.
You in?