The Johns Hopkins University Applied Physics Laboratory
The Challenge
Since 1942, the JHU Applied Physics Lab has been developing innovations to ensure our nation's preeminence in scientific research and development. In order to continue its mission for another 80 years, APL needs to attract the right people at a time when competition is fierce, talent is scarce, and the challenges aren't getting easier. We'd just launched the APL Civil Space website. Now APL presented idfive with an even bigger challenge: the main APL website.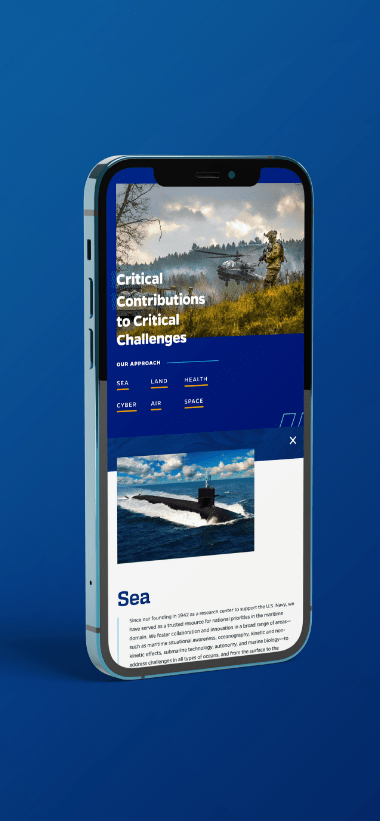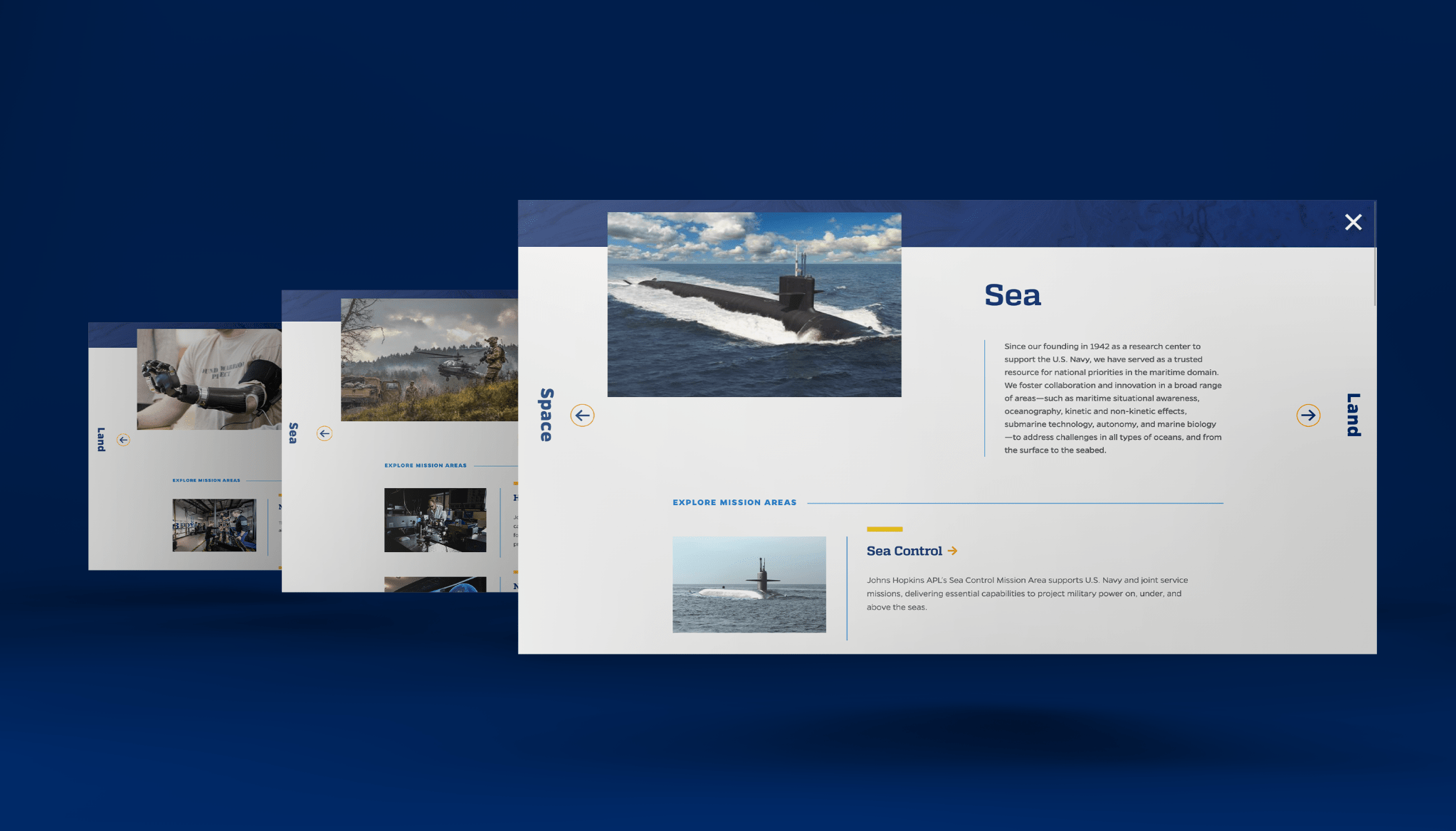 Strategy
When idfive set out to create a new website for the laboratory, it became apparent that since it needed to fulfill many goals, addressing all those needs would require thoughtful and strategic decision-making. First, APL is a large operation, with 8,000 scientists, engineers, and administrators on its main campus between DC and Baltimore, focusing on 12 critical mission areas such as Air and Missile Defense, National Health, Cybersecurity, Civil Space, Special Operations, Sea Operations, R&D, and Strategic Deterrence. As new national challenges arise, so does their need to continue to recruit top talent in some of the most competitive industries.
That said, APL's new website couldn't just be about recruitment—they also wanted a website that helped facilitate crucial partnerships in government and industry while also attracting collaborators from academic, industry, and government.
Telling the story of an institution with such a wide range of projects and an insatiable need for new talent is a unique challenge. The nature of APL's work means that they can't speak publicly about a lot of what they do because a lot of that work is classified. This issue seemed to present a paradox: in order to attract talent, catalyze partnerships, and facilitate collaboration, they had to be able to talk about their work—the very thing they were prevented by law from doing.  A challenging task for sure!
Then we did the research, and the answer became clear. While it may not be possible to talk about the details of much of what APL does, we could feature the most valuable part of APL: its people.
It may come as a surprise to many, but no matter how cutting-edge the technology is, how fantastically-difficult the engineering challenges may be, and paradigm-shattering the science may be, all of these fields depend on people, and APL's people are pretty spectacular. And spectacular people attract others like themselves.
But that still left one problem: how to communicate the breadth and depth of APL's work to those who've had their interest in APL sparked. The answer revealed itself from the data we'd gathered from APL employees, industry leaders, academic and government partners, and prospective employees. The message came through loud and clear: today, innovation can't happen in isolation. Breakthroughs come through collaboration, cross-pollination between disciplines, and relationships between people. Our website couldn't treat the 12 mission areas and innumerable projects as separate silos. It had to embody the connected and collaborative spirit of APL.
Design
There's a lot going on at APL and a lot of brilliant people contributing to the work—amazing work, often on the bleeding edge of innovation.  Our design brings these two elements together in a bold layout featuring generous space for images, link features that facilitate exploration, and news widgets that help APL communicate the pace and vibrancy of their work. Most importantly, the design never loses sight of the primary purpose of the site—recruitment—by offering clear calls to action for job-seekers and streamlined neurodesigned response mechanisms.
Development
Like the APL Civil Space website—our first engagement with APL—the main APL website was built in Drupal 9, a CMS chosen because of APL's previous experience with the product. Like everything we do, the site was built to be modular and responsive, with a wide range of brand-appropriate content types and interface widgets provided to content maintainers that allowed customization of unit web pages while keeping creators and maintainers focused on maintaining APL's extremely strong brand.
Up Next
Guiding those who want to serve the community to programs that will serve their needs.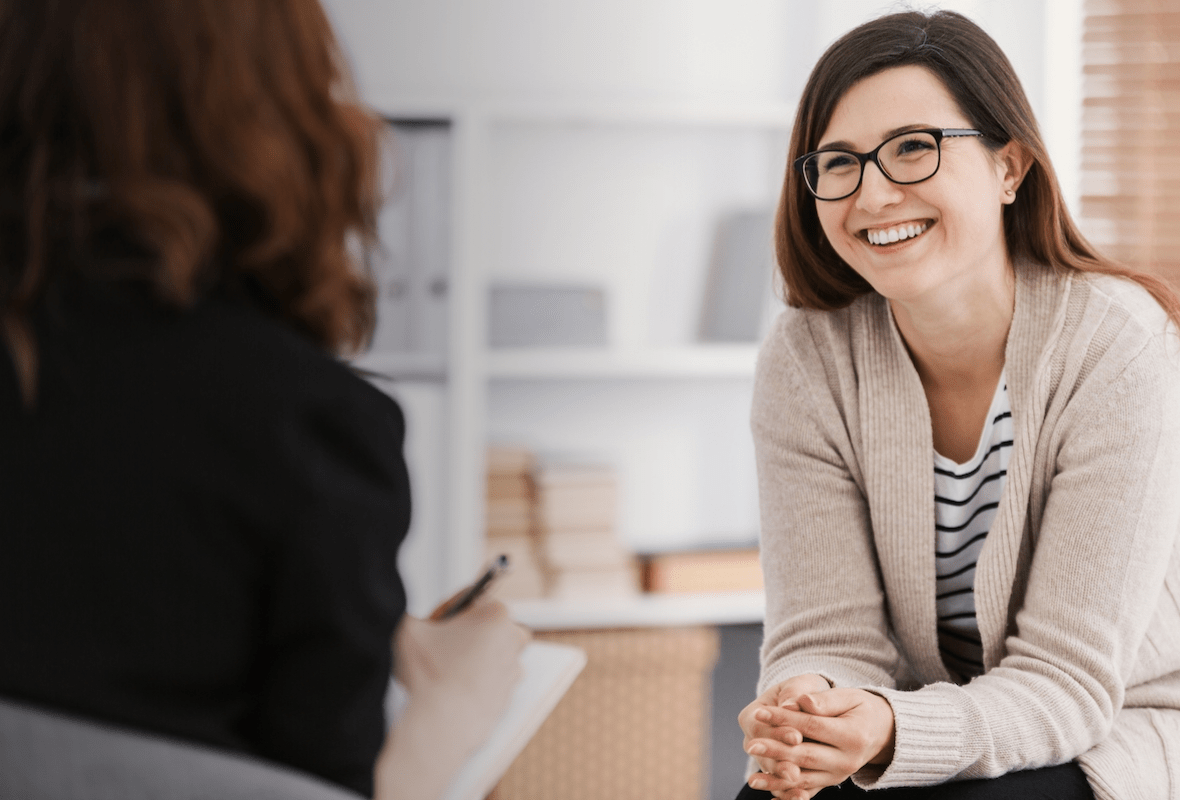 There's amazing potential for good in the world. Let's give it a chance and a voice.
You in?