Your website is one of your university's most important marketing assets. Not only is it likely the first place prospective students look to learn more about your institution, but it's also where current students, teachers, and alumni go to learn about upcoming campus events or access portals. Your website is the hub for all university information.
That's why your website's functionality and design is so important. From the menu layout to homepage content, each part of your website's user experience influences engagement. For instance, text-heavy pages or confusing navigation can cause site visitors to leave and find another site.
Here at OmniUpdate, we believe that one of the best ways to maximize opportunities for your university is with a website redesign project. A university website redesign is actually one of the most effective and cost-efficient ways to attract and recruit new students. But to successfully conduct and finish the redesign, you first need a capable and reliable content management system (CMS).
In this guide, we'll be reviewing how to conduct your website redesign project through the following three points:
Invest in the right CMS

What your university website needs

Successful university web design project examples
Think of your university website as the digital front doors of your institution. You want it to attract and hold the attention of visitors, and an effective redesign is your best bet. Ready to get started? Let's begin.
Invest In The Right CMS
Many universities hold off on website redesigns simply because the process can be time consuming and resource exhaustive. Instead, they opt for quick fixes or temporary solutions that require continual updates.
To ensure your university redesign project goes off without a hitch, take a look at your current web admin tools, specifically your CMS. If you're unsure whether you should invest in a new CMS, consider if your current one can:
Identify accessibility issues.

There are many

different accessibility guidelines

that your website will need to follow to be accessible to users with disabilities. A quality CMS will provide ways to decrease and eliminate future accessibility issues for your website.

Meet the specific needs of higher ed.

Your CMS should cater specifically to institutions like yours. For example, it should have features designed to solve challenges that your university is likely to have. This may include IT, administration, and marketing problems.

Allow content contributors to easily create, upload, and revise website content.

A worthwhile CMS is feature-rich but also intuitive and easy to use. Your staff should be able to optimize and change content with ease to keep your website up to date.
It's important to invest in the right CMS to serve as a foundation before considering the specific elements of your website redesign. A website redesign can often expose never-before-seen complications, from security vulnerabilities to accessibility issues. You don't want to make the mistake of moving forward without capable tools. After all, the ongoing success of your new website is ultimately the most important.
What Your University Website Needs
Once you have a dedicated and reliable CMS, consider different ways to launch your university's website redesign. First, consider the people who are visiting your site and their exact needs.
According to our article on Higher Ed Trends of 2019, tuition, financial aid, and scholarships pages are the most visited college and university web pages. This gives you a clue about who your website visitors likely are and what other content they might be interested in exploring. You can even tweak your navigation and design layout to lead those users to other additional relevant pages.
Consider the following tips:
Make use of visual elements such as photos and videos.

Use visual aids to tell your university's story and express what student life is like. You can even create specific videos about campus life. However, don't overload your website with visual content. White space is also crucial to help visitors avoid being overwhelmed. .
Personalize the website experience with various calls to action and marketing leads

. It makes sense that prospective students, current students, alumni, parents, and teachers all have different reasons for visiting your website. If a student is looking up major and minor information, include other links and CTAs to a course catalog or another relevant page.
Use responsive design.

Your university's website should be accessible on any size screen – including phones, tablets, and laptops. This means your website should adjust all images, text, and other elements so that they're arranged in an intuitive and logical manner.
Clearly showcase your website's menu navigation.

This is where visitors will go to find their ultimate destination. Display all landing pages, including your application page and student portal. Declutter your menu by grouping pages based on sections like "Admission & Aid" or "Campus Life."
Include interactive content.

Engage  university website users with interactive elements. These can be as simple as expanding links on your homepage. When users watch the content on the screen change based on what they click, , it creates a genuinely immersive experience.
Connections to social media.

These days,

7 in 10 Americans

have social media accounts.

Social media is a great way to engage current students

and talk about what's new on campus on a platform that they're already active on! Provide connections to social media accounts within your website, whether they're displayed in a feed or a simple link in the menu.
These elements can be incorporated with the right CMS. Ensure that the CMS you invest in has the capabilities to successfully bring your redesign vision to life.
Successful University Web Design Project Examples
Before you take on your university's redesign project, we wanted to also share some recent successful web design projects for inspiration.
These two university examples partnered with idfive to help improve and optimize their marketing efforts, with a key component being a website redesign.
University of Mary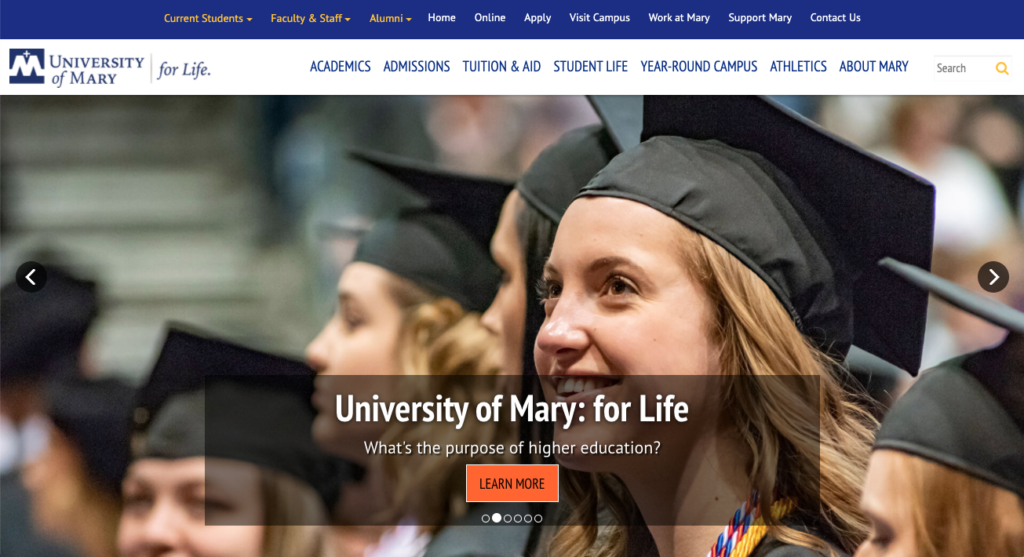 University of Mary knew they wanted a website redesign but didn't quite know where to start.
As soon as you open the University of Mary's homepage, you're presented with its school colors and an image carousel showcasing campus life and the students who go there. This is a great way to capture potential students' attention and show them what life could be like if they attended this university.
Additionally, the University of Mary incorporated these elements to complete their website redesign:
Multiple navigation menus

targeting different core landing pages. No matter the type of visitor they get, the user is immediately presented with connections to what they're likely looking for.

A social media feed

with recent Twitter statuses and icons to other social media connections. Learn more about what's important to the school as well as recent events by just scrolling through the Twitter feed.

Clear calls to action

for its online school program catalog. University of Mary knows that many people who visit their website are seeking online school information. That's why they included a clear and easy way for users to find that information.
University of Mary's redesign project allowed them to think about what's most important to their school's mission and reflect that on their homepage.
University of the Sciences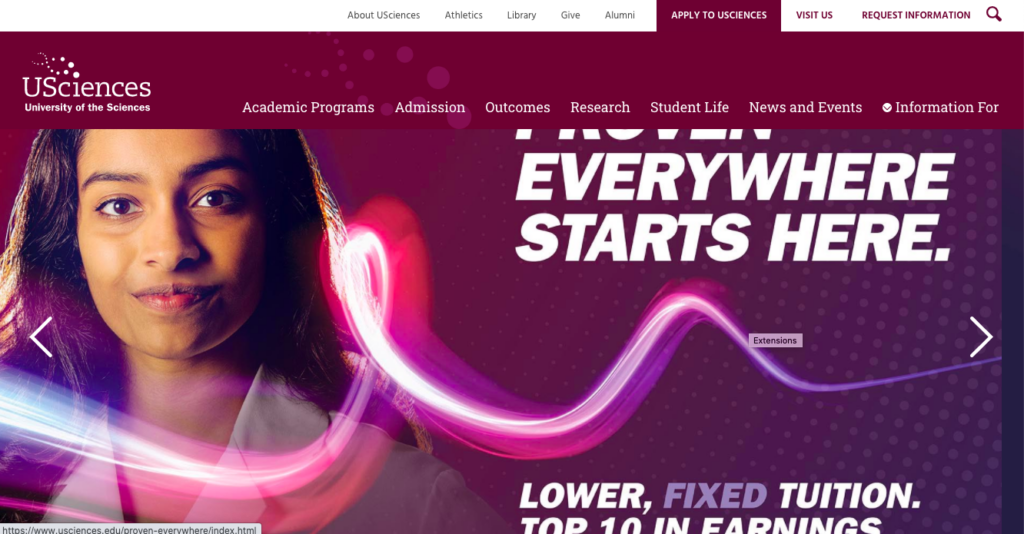 The University of Sciences is a large school dedicated to pharmacy and other health-related disciplines. Because of its niche focus, the University of Sciences has to work to attract potential students to its offerings. With a website redesign, they are now able to focus on how to show users the school's value and offerings.
Once you land on the University of Sciences homepage, site visitors will see:
A slideshow

depicting different reasons and motivations to explore the school further. The slideshow switches between a virtual tour of the school to a landing page displaying all of the schools rankings and accomplishments.

A specific menu button

that provides an easy way for visitors to find what they're looking for. The button is titled "Information For" and opens up to an additional menu with "Accepted Students", "Parents & Families", "International Students" and more!

A stream of recent news and upcoming events.

This way, visitors immediately get a sense of the types of experiences University of Sciences provides as well as recent accomplishments!
The University of Sciences knew that it's not just students who visit their website. With their redesign, they were able to cater to specific site visitors, whether potential students, parents, and families.
Reviewing great college website designs can help you understand what might work best for your university. For more inspiration for your college website redesign, check out this article.
Court Campion is director of marketing at OmniUpdate, creator of award-winning OU Campus®. Check out the Omniupdate blog for more information about university and college website redesign, accessibility, student engagement, and other topics of interest to higher ed marketers, developers, and administrators.